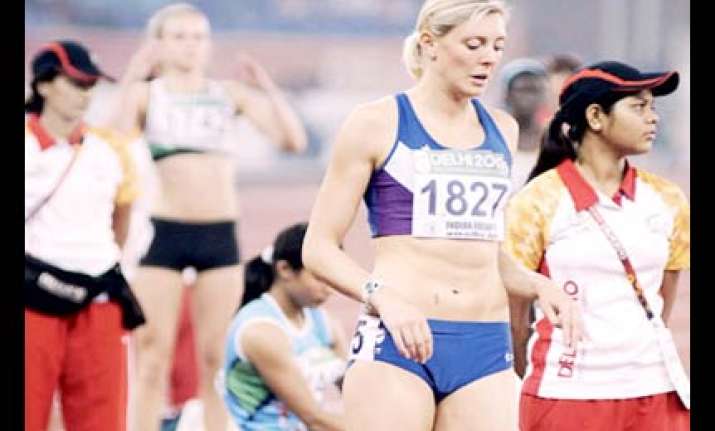 New Delhi: They thought it was about national pride but what they had to go through is nothing short of national shame.
Several girls from the Guru Gobind Singh Indraprastha University, who joined as student volunteers for the Commonwealth Games, have alleged their senior colleagues and officials attached to the Organising Committee harassed them sexually, says a MidDay report.
At least two girls posted at the Jawaharlal Nehru Stadium have resigned, alleging their seniors asked for sexual favours. However, under family pressure they were not able to file any formal complaint against the accused officials. When the harassment didn't stop, they left their jobs.
"My senior assured me relaxed working hours and incentives, if I obliged him," said one of the volunteers who stopped reporting for work at Jawaharlal Nehru Stadium, the showpiece venue for the Games.
"Our parents did not want us to go there again. They were worried about our security," said another volunteer, who was also harassed at the Jawaharlal Nehru Stadium.
Both girls, refusing to divulge their identities, claimed there have been several cases across venues but no formal complaints, as the accused either threaten the victims or try to coax them into not registering complaints.
"A lot of them also give in to family pressure and the stigma for the whole family," one of the victims told MiD DAY.More than 2,700 girls from the Indraprastha University have been volunteering for the Commonwealth Games.
Authoritative sources across Games venues have confirmed that several girls have been "asked out" by their seniors.
"By offering incentives, seniors ask for sexual favours," said one of the volunteers at Thyagraj Stadium, venue for the Netball event.Another volunteer alleged that the workforce manager Mrs Prerna used to "send the girls to some specific officials" for random work.
"She would send us to one Mr Pramod who used to ask girls out for coffee and dinner," said a victim. Yet another volunteer at Indira Gandhi Stadium claimed that Abhay, assistant manager, volunteers, have been asking for sexual favours from the girls.
Complaints were also heard against the head of the technical department, Saumesh, at the Yamuna Sports Complex. "Most of the girls are apprehensive of his "over-friendly" behaviour," said a girl posted at the complex, situated in east Delhi.
Even the university officials seem to be aware of the issue but they said they were yet to receive a formal complaint."It is shocking. Our university is actively participating in the event. This kind of behaviour is intolerable and strict action should be taken against the culprits," said Vibhor Anand, Head Convener, Commonwealth Games, Student's volunteer programme, IP University.
"I have not heard any such complaint. We will bar all volunteers from Games duties, as soon as I get any such complaint. Also, we will officially look into the matter by filing a written complaint with the Organising Committee," said Professor DK Bandyopadhyay, Vice-Chancellor, IP University.
The volunteers staged a protest outside the Organising Committee (OC) office on Tuesday. The volunteers were complaining about the "rude" behaviour of their seniors.
"They are treating us like peons. We are made to clean the floors and have also been asked to pick the garbage," said Santosh, one of the volunteers who protested outside the OC office."In fact we are asked to work odd hours. It is becoming difficult for us to work in such environment," said Anita, another volunteer present at the protest. Rajan Bhagat, PRO, Delhi police said he received no such complaints.