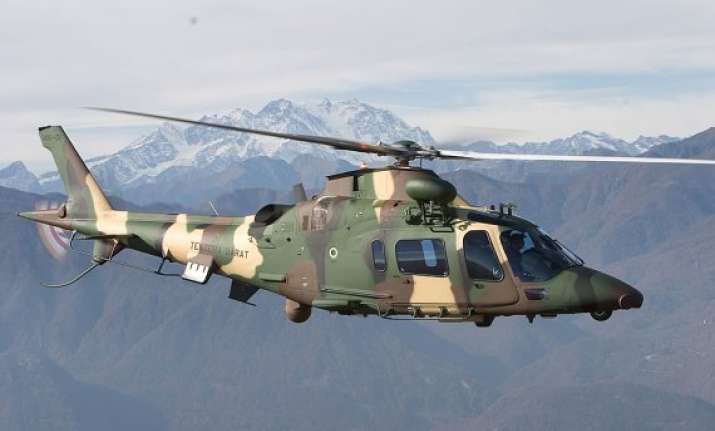 New Delhi: Investigative agencies like CBI and ED, probing corruption charges in the Rs 3,600 crore AgustaWestland VVIP chopper deal, will have to wait for over three months to know the exact legal reasons that led an Italian court to acquit two top officials of the accused firm.
Sources said today that the Milan court, which cleared former Finmeccanica CEO Giuseppe Orsi and ex-AgustaWestland head Bruno Spagnolini of corruption charges in the chopper deal on October 9, has said it will finalise and put out the final orders in this case after a period of "90 days" from the date of the pronouncement of this order.
The court had, however, sentenced the duo to two-year jail term on lesser charges of falsification of invoices.
Representatives of the Indian Consulate in Milan, the sources said, have informed the government and investigators here that the two executives of the accused firm have been held guilty on charges of "tax evasion" which is a  offence of civil nature in that country.
The report sent here said the Italian prosecutor in the case did not allow any intervention by any authority to join the proceedings and hence the Indian officials, as authorised by the Ministry of Defence, were not able to make any submissions from their side.
"If the agencies could have got the order they would understand the kind of evidence produced and the court's observations that led to the order on October 9.
"However, despite these developments the probe in criminal cases filed by agencies like CBI and Enforcement Directorate will carry on independently. The court order can
be collected later," the sources said.
On January 1 this year, India scrapped the contract with Finmeccanica's British subsidiary AgustaWestland for supplying 12 AW101 VVIP choppers to the Indian Air Force for alleged
breach of contractual obligations and charges of paying kickbacks to the tune of Rs 360 crore by it for securing the deal.
The CBI and the Enforcement Directorate are still probing the case in India where former IAF Chief S P Tyagi, his cousins and other entities are alleged to be the beneficiaries.
The ED and CBI have booked Tyagi, his family members, European nationals Carlo Gerosa, Christian Michel and Guido Haschke, four firms—Finmeccanica, AgustaWestland and Chandigarh-based IDS Infotech and Aeromatrix, two companies based in Mauritius and Tunisia, few other firms and unknown persons in their criminal complaint.
In view of the corruption charges, India has also barred Finmeccanica and its group companies from participating in defence ministry tenders.