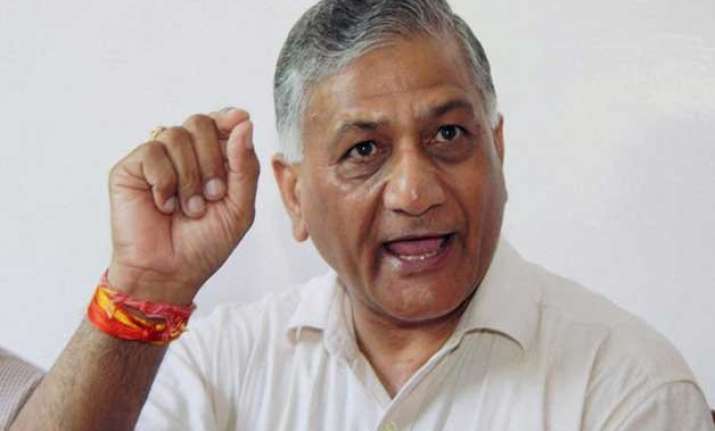 New Delhi: Minister of State for External Affairs V K Singh today headed for Djibouti to oversee evacuation of around 4,000 Indians from strife-torn Yemen as India launched a major operation to rescue its citizens by deploying five ships and four aircraft.
Two warships and an offshore patrol vessel of Indian Navy have been pressed into service besides two other passenger ships while the Indian Air Force has put on standby two C-17 Globemaster transport aircraft.
Air India has also stationed two 180-seater Airbus A320 planes in Muscat for evacuation of Indians from Yemen's capital Sanaa to Djibouti whenever a clearence is given by the concerned authorities.
Singh today left for Djibouti, a country neighbouring Yemen and across the Red Sea, to oversee the entire evacuation operation christened 'Operation Raahat'.
Defence sources said INS Sumitra, an offshore patrol vessel of Indian Navy, was diverted from its anti-piracy mission in Gulf of Aden and reached the periphery of the Yemen's territorial waters to help evacuation of around 400 Indians from Aden.
They said four ships, including destroyer INS Mumbai and stealth frigate INS Tarkash—will reach Yemen by Saturday.
Two merchant vessels - Kavaratti and Coral - have also been despatched.
The four ships are to join each other in Arabian Sea on April 2 and proceed as a composite group to Djibouti.
The two 180-seater aircraft dispatched by Air India yesterday remain stuck in the Oman capital Muscat due to want of clearance from the authorities.
"The two aircraft remained stationed at Muscat for the second today. Besides awaiting clearance for landing at Saa'na airport, we are also awaiting for instructions from our government as well," Air India sources said here.