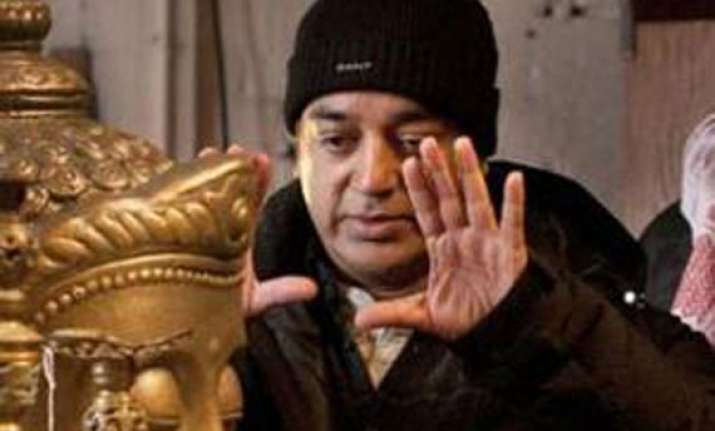 Chennai, Feb 4 :  Actor-director Kamal Haasan today announced release of his controversial film 'Vishwaroopam' in Tamil Nadu on February 7 as he withdrew his petition against the ban on the movie in Madras High Court.
The announcement comes a day after the ban on the film under Section 144 of CrPc was lifted by District Collectors across the state following a compromise reached on Saturday between Haasan and Muslim outfits who were up in arms against it, claiming the film offended their sentiments.
"The film is to be released coming Thursday, February 7, crossing all hurdles," the 58-year-old filmmaker said in a statement shortly after both he and government withdrew their petitions before the High Court.
Justice S Rajeswaran allowed Haasan and government to withdraw their pleas after they expressed their wish to do so.
Haasan thanked Chief Minister Jayalalithaa for "helping me," apparently referring to government brokered talks with protesting Muslim groups, despite a "delay in justice," that helped him to end the week long standoff.
"Wherever I go or live, your hearts are my permanent address," said the actor, who had threatened to go on a self imposed exile following the ban. Haasan dedicated his film to his fans and welfare clubs monitored by him.
Haasan said he would return the money sent by fans in the belief that even if politics and religion left him in the lurch, he had many houses where he can eat and sleep.
The compromise with Muslim groups preceded an emotional outpouring by Haasan, who had spoken of having to pledge his house in the making of the Rs 100 crore multi-lingual spy thriller that was released in other states, barring his own.
Haasan said he was moved by the gesture of his fans who had sent money after his revelation that he could lose almost all of his property, pledged towards making the film.
He received widespread support from the film industry across the country after the ban was imposed by the government, citing threats of violence.
Haasan thanked his colleagues from Tamil cinema industry and their counterparts in other languages of Indian cinema and also the media, whom he said viewed his right (to expression) as theirs.
The film, made in Tamil, Telugu and Hindi, was originally slated for release on January 11, but has been lurching from one crisis to another.
The first trouble came from theatre owners who opposed the tech-savvy actor's move to release it first on a DTH platform, forcing him to indefinitely put it on hold.
Then came the 15 day ban by the state government, forcing Haasan to take the battle to the court. He got interim relief from a single judge who allowed its release but a division bench overturned it and reverted the matter to a single judge.
Finally, the breakthrough came after Jayalalithaa offered to facilitate a resolution to the crisis if Haasan and the Muslim outfits could arrive at an amicable agreement.