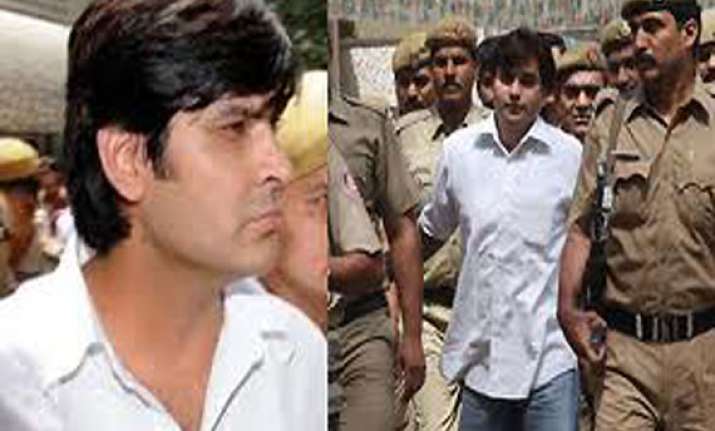 New Delhi, Feb 25: Vishal Yadav, serving life sentence along with cousin Vikas for killing Nitish Katara in 2002, today moved the Delhi High Court seeking a direction to the city government to provide "proper" treatment to him, claiming he suffered facial paralysis recently. 
A bench of justices Gita Mittal and J R Midha asked the state counsel to find out the facts and inform it on the next date of hearing.
The court fixed February 28 to hear the application along with his appeal against conviction and sentence.  
Filing the plea, Vishal said that on February 12, he had suffered facial paralysis and the next day he was taken to DDU hospital for OPD.
"The hospital has only neuro medicine department and no facility for neuro surgery and CAT scan available there," Vishal said and sought proper medical treatment.  
He alleged that the jail authority did not provide the details of the treatment to his family members.  
"Direct the state to provide the treatment and disease details to the family of the applicant and provide proper treatment as is required for the disease and proper OPD facilities as is required for applicant's treatment," the plea said.
Earlier, Nitish's mother Neelam Katara had alleged that jail officials had illegally allowed Yadavs to visit various hospitals under the pretext of health problem.  
In her plea, she had contended that Vishal had made 87 visits to Batra Hospital and Vikas was shifted from 'B' class facility to 'A' class at AIIMS after their conviction in 2008.  
She contended that Vikas had gone out of AIIMS during his admission in custody on October 26, 2011 on Diwali day.  
In yet another application, Vishal Yadav today also urged the court to direct the prosecution to produce a witness, Kamal Kishore, who was not examined by the state during the trial on the grounds that his whereabout could not be ascertained.