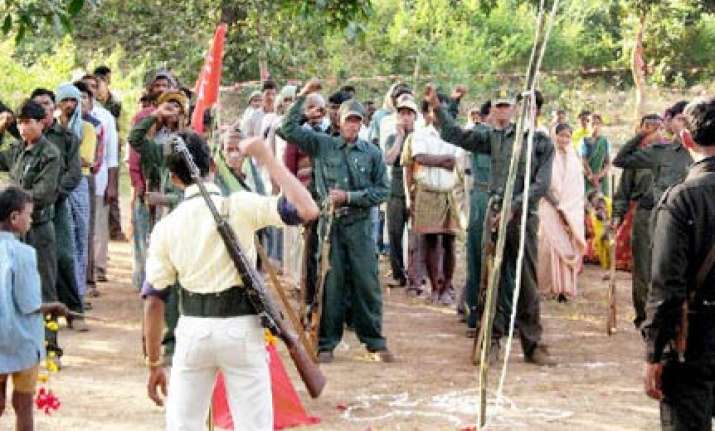 Maoists blew up a road bridge in Jharkhand, torched a CPI(M) office and set off a blast near a railway track in West Bengal in a violent start to the 48-hour bandh called by them in seven states demanding an end to security operations. 
Normal life was affected mostly in rural areas of Jharkhand, Bihar, Orissa, West Bengal, Chhattisgarh, Andhra Pradesh and three districts of Maharashtra even as authorities stepped up security to thwart attacks by Maoists. 
The ultras triggered a blast near a railway track at Bhalukhunia between Midnapore and Godapia Sal stations in Bengal's West Midnapore district early on Monday  which disrupted train services for three hours. 
Over 20 Maoists stormed Bagjhappa village in the district and set ablaze a CPI(M) office late last night. Two CPI(M) supporters were also beaten up by the group following which they were admitted to a hospital at Jhargram. The houses of two party supporters were also set afire in Chakua village.
In Jharkahnd, Maoists triggered a landmine blast blowing up a road bridge between Raipahari and Kurlisuta villages in Jharkhand's Ghatsila sub-division.  Maoist posters asking the security forces to stop the operation against them were seized by police at Dumuria village bordering Jharkhand 
"Through such incidents, the Maoists are trying to divert the attention of the combined forces engaged in the combing operation to flush out the Maoists from the Jangalmahal area", District Magistrate N S Nigam said.
The bandh did not affect normal life in the urban pockets of Ranchi, Jamshedpur and Dhanbad though the shutdown was total in rural areas of Gumla, Khunti, Bokaro, Chatra, East and West Singhbhum, Palamau and Latehar districts.  Majority of shops and markets downed their shutters and long distance buses remained off the road in these areas. Commercial vehicles were plying in depleted strength in the rural pockets of naxal-affected areas. 
Railway services between Garwah Road-Barkakhana route under Dhanbad division of East Central Railway were also affected as several trains were cancelled or diverted in view of the bandh, railway sources said.   Officials said that transport of minerals was affected in several areas of Latehar, Bokaro and Gumla districts as truck operators suspended services to avoid untoward incidents. Apart from the state police force, para-military forces and Railway Protection Force have been deployed to protect vital installations, the sources said. 
 In Orissa, the bandh had a mixed response in the southern districts of Koraput, Rayagada, Nabarangpur and Malkangiri. Vehicular movement was  hit in the naxal-affected districts of Malkangiri, Koraput, Sundargarh, Gajapati and Rayagada with the rebels blocking roads by felling trees and placing boulders.  Electricity supply was disrupted in most parts of Malkangiri district as huge trees cut by Maoists snapped transmission lines. 
The ultras burnt tyres and put up posters at Roxy town in support of their bandh call.  Normal life in Roxy, Kalta, Koida and K Balang was affected following closure of shops and other small business establishments.  In Chhattisgarh, public transport was affected in the interior regions of the state. According to senior police officials, additional personnel have been deployed in Naxal-affected and bordering areas of the state. 
Police teams have been deployed at railway stations, bus stands and other crowded places. Besides, vehicles are being searched to avoid any untoward incident, they said.
According to sources in Bastar district, a naxal hotbed, most of the shop-owners preferred to down the shutters.  Heavy deployment of police has been made along the Andhra Pradesh-Orissa border and combing operations intensified.  "The bandh has been incident free so far in Visakhapatnam district. We have pumped in required forces to ensure safety of people and also public property," SP Vineet Brij Lal said. 
Apart from Visakhapatnam, heavy police force has been deployed in Srikakulam and Vizianagaram in Andhra Pradesh-Orissa border. Combing and frisking have been intensified in the bordering areas in view of the bandh, police sources. PTI