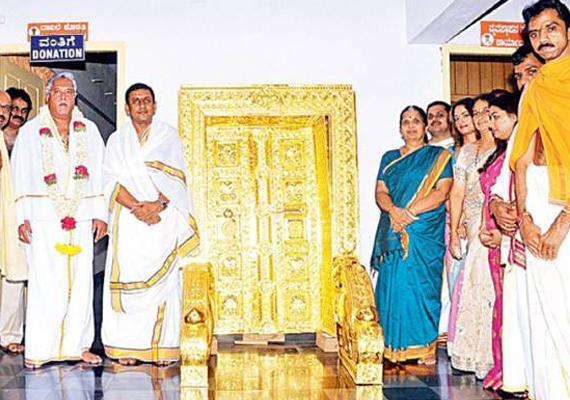 Bangalore, Aug 24: Tycoon  Vijay Mallya has donated a gold-plated door worth Rs 80 lakh to Lord Subrahmanya in a  temple in Karnataka's Dakshina Kannada district, says a Mail Today report.
Mallya made the offering on Thursday and completed all rituals performed by the priests at the Kukke Subrahmanya temple. 
This temple is frequented by the high and mighty of the state including former chief minister B S Yeddyurappa.  
Mallya visited this temple in April, and he had then vowed to donate a gold-plated door. He had made this pilgrimage as his Kingfisher Airlines was facing financial turmoil.  
The door has been mae out of nearly 2.5 kg og gold. Sculptor Sudhakar Dongre and his teak worked on the doors for nearly two months in Karkala of Dakshina Kannada district.  
" Mallya had prayed for prosperity and sought divine intervention to overcome the challenges in his business.He had also taken a vow to donate the gold plated door and accordingly fulfilled the vow," temple authorities said. 
The door was brought from Karkala two days before the rituals .
" Mallya adhered to all rituals and norms in a strict manner. We hope his troubles will end in the coming days," a temple staff said.  
The temple authorities did not allow visitors and pilgrims to witness the consecration event. 
Master blster
Sachin Tendulkar
had visited this temple in 2006, and in March this year, BJP MP Varun Gandhi came on a secret visit creating furore among devotees, as they were barred entry because of the Gandhi scion.
The temple also made news last year because of the age old practice of ' made snana ' or Dalits rolling over leftover food of Brahmins inside the temple.