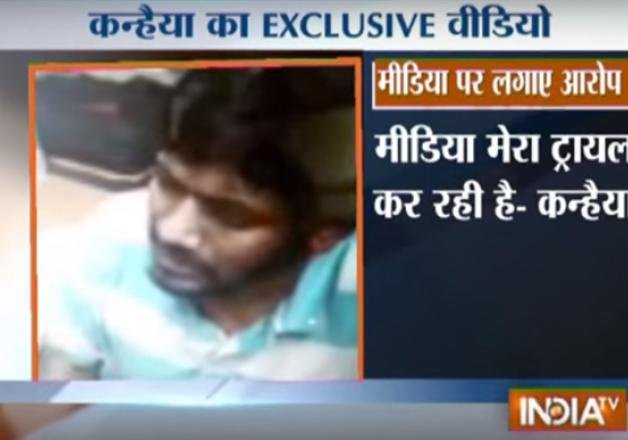 New Delhi: JNUSU president Kanhaiya Kumar, who is behind the bars in connection with a sedition case, has claimed that he was beaten by mob at the Patiala House court in the presence of police.
In a video accessed by India TV, Kanhaiya can be heard saying the crowd at the court thrashed him in front of the cops on February 17 and they did nothing to rescue him.
"I was surrounded by the media at the gate and then the police took me inside the court-room, where the mob (lawyers) attacked me. Some people who were beating me called other people shouting he's arrived. It looked like they were waiting for me. I was almost disrobed while being taken inside the court," he said in the video.
"I told the police he (lawyer) was hitting me, they didn't do anything. I told the judge I have full faith in the Constitution," he added.
"Dekhiye ye maamla bahot highlight ho chukka hai. Maine pehle din hi kaha tha ki I have full faith in my India constitution. Media trial kar rahi hai, puri media nahi kar rahi hai." (This issue has got limelight. I have time and again said that I have full faith in the constitution of India. A section of media has put me on trial).
The latest video has contradicted the claims made by police in Supreme Court that the JNUSU president was not assaulted inside the court room but outside it.
Even after identifying the people who beat him, Kanhaiya said the police at the site did not arrest them.
The JNUSU president was attacked twice at a lower court last week.
Meanwhile, the security of Kanhaiya has been beefed up at the Tihar Jail after intelligence suggested that he could be attacked inside the prison. His bail plea will be heard by the High Court on February 29.
Kanhaiya is among six JNU students who have been accused of sedition over pro-Afzal Guru event at the JNU campus on February 9.