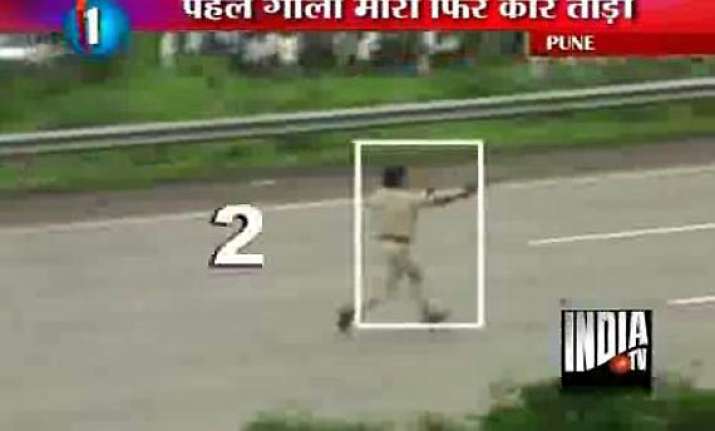 Mumbai/Pune, Aug 11: Opposition members today demanded suspension of police officers involved in firing in Maval, near Pune, in which three farmers were killed, as video footage showed some policemen apparently aiming their guns and shooting at unarmed protestors.

The firing incident during violent protests on Tuesday continued to rock both Houses of Maharashtra Legislature for the third consecutive day with Opposition creating a ruckus and calling the police action a "cold-blooded encounter".

Terming the firing as 'murder', Shiv Sena executive president Uddhav Thackeray demanded resignation of Deputy Chief minister Ajit Pawar and Home Minister R R Patil.

With the police facing the heat over its controversial action, Pune rural Police Superintendent Sandip Karnik told reporters six of the injured were hit by bullets below waist and it was unfortunate that three were shot above waist resulting in fatalities.

He also refuted the allegations that one protester was killed in an " encounter" after pulling him out of a car. Police said the firing was prompted after they were attacked by farmers with stones and their jeeps burnt while they were negotiating with the farmers' leaders.




Three persons were killed and scores injured in police firing in Maval near Pune on Tuesday following the protests over a closed pipeline project to supply water to the industrial township of Pimpri-Chinchwad town.

The Lower House was adjourned five times while the Upper House four times as the opposition members shouted slogans against the government.

At one stage, opposition members climbed onto the podium and overturned the side table of the Legislative Principal Secretary Anant Kalse's desk.

"The concerned police officials should be suspended immediately," the Opposition members demanded.

Leader of Opposition in the Legislative Council Pandurang Phundkar said "...Even news channels have aired videos that policemen were seen chasing the farmers."

Video footage of the incident aired by TV channels showed the farmers running away as the policemen fired at them and not in the air.

Home Minister R R Patil on his part said "If any policemen is found guilty of firing he will not only be suspended but would be straightway dismissed from service. And if required a case under section 302 (murder) would also be registered against them," Patil said.

The proceedings of Maharashtra Legislature were affected for the third consecutive day today as opposition members created a ruckus demanding suspension of police officers in connection with the Maval firing incident in which three persons were killed.

Both the Houses saw uproarious scenes since the time they assembled for the day over the incident in which three persons were killed during a farmers' protest in Maval near Pune on Tuesday following protests over a closed pipeline project.

Terming the state government as "murderer", the opposition members said the farmers were killed in a "cold-blooded encounter".

The innocent victims were dragged to the police van and shot dead at point blank, they alleged.

The Lower House was adjourned for five times while the Upper House four times as opposition members shouted slogans against the government.

Meanwhile, after two adjournments of one hour and thirty minutes, the Assembly paid homage to former Maharashtra Governor P C Alexander who passed away yesterday. Immediately after the condolence motion was adopted, the opposition members resorted to sloganeering and rushed to the well following which the Speaker Dilip Walse Patil again adjourned the house for 30 minutes.

Later, presiding officer Nawab Malik rushed through the business of laying of papers amid pandemonium but had to adjourn the house for 15 minutes when the opposition members climbed onto the podium and overturned the side table of the Legislative Principal Secretary Anant Kalse's desk.
"The concerned police officials should be suspended immediately," they demanded.

Later, the Chair adjourned the House for one more hour. However, sensing the belligerent mood of the Opposition, the House was later adjourned for the day.

Unruly scenes were also witnessed in the state council as the Opposition MLCs demanded a fresh discussion on the incident.

The MLCs assembled near the well and shouted anti-government slogans demanding resignation of the state government for being responsible for the "encounter" of farmers.

Leader of Opposition in the Legislative Council Pandurang Phundkar said, "Farmers have claimed that Moreshwar Sathe (one of the farmers killed in police firing) was shot at after being detained by the police. Even news channels have aired videos that policemen were seen chasing the farmers.

"The state government has no right to remain in the office as it is responsible for merciless killing of farmers." Home Minister R R Patil, who stood to give a brief reply on the incident after the proceedings began after an adjournment of 20 minutes, said a retired judge of the High Court would be appointed soon to probe the police firing.

"If any policemen is found guilty of firing he will not only be suspended but would be straightway dismissed from service. And if required a case under section 302 (murder) would also be registered against them," Patil said. The Upper House also witnessed a pandemonium since the time it assembled today.

Opposition MLCs resorted to continuous sloganeering which led to adjournments for four times before being adjourned for the day. PTI