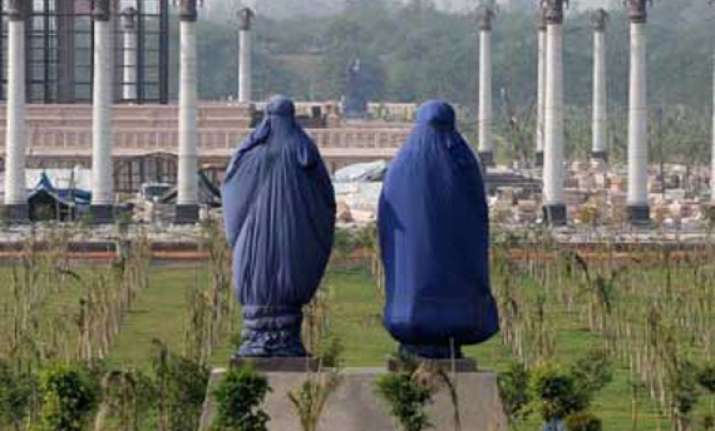 Noida, March 4 : Nearly two months after they were draped on orders of the Election Commission, authorities today started unveiling the statues of Chief Minister Mayawati and BSP's election symbol, elephant, as the poll process in Uttar Pradesh came to an end.

A day after the Election Commission ordered the Uttar Pradesh government to uncover the statues, authorities at the Dalit Prerna Sthal in Noida initiated the process.

Though the Prerna Sthal was inaugurated by Mayawati in October last, it could not be thrown open to the public as some work was still going on.

Later, due to the announcement of the election code of conduct, its opening was delayed. Now, officials are planning to open it soon.

At Greater Noida too, elephant statues at Badalpur parks and entry point were unveiled.

Work to unveil statues of BSP election symbol was also underway in all the major parks in state capital Lucknow.

A number of labourers were involved in unveiling the statues of Mayawati and elephants since morning at the Bhimrao Ambedkar Samajik Parivartan Sthal in Lucknow, a senior official said here.

Work is also going on in other parks and some crossings where elephants were draped, he said.

The labourers were also seen washing and cleaning statues after they were unveiled. The iron structure around a statue of Mayawati that was covered with ply has also been removed.

The EC Secretary had yesterday written a letter to the UP Chief Secretary stating that the statues draped following its January eight order should be uncovered forthwith.

The EC had said the statues should be uncovered as the poll process was over in the state.