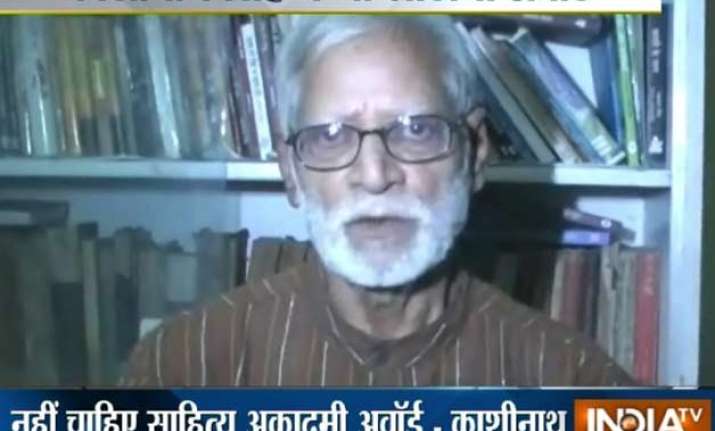 New Delhi: Noted Hindi writer Kashinath Singh on Friday became first litterateur from Prime Minister Narendra Modi's constituency, Varanasi, to return the prestigious Sahitya Akademi award to protest growing intolerance in the country.
Singh, the former BHU professor, said that he will also be returning the amount of Rs 1 lakh that he had received along with the award.
The award was given to him for his novel 'Rehan Par Ragghu' in 2011.
Sing said that he decided to return the award as he was annoyed by the statements made by ministers on this grave issue.
He also said that the developments show that the Central government is not concerned about the issues raised by the writers.
The 78-year-old writer has penned many novels and short stories, and his most famous novel is 'Kashi Ka Assi'.
More than 20 writers, most recently Rajasthani poet Nand Bhardwaj and English poet Keki N Daruwalla, have returned their Akademi awards.
Meanwhile, another Hindi poet Manmohan returned the Haryana Sahitya Akademi award along with the prize money of Rs 1 lakh.
The writers are returning their awards to protest the 'silence' of the Akademi and the government over the killing of Kannada writer MM Kalburgi and the lynching in Dadri of a 50-year-old man.