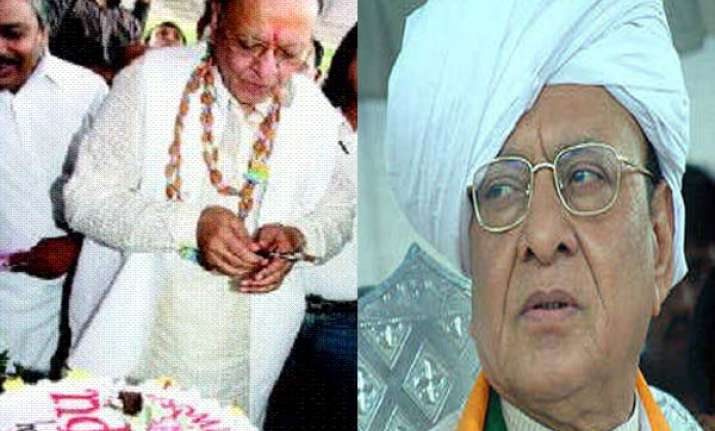 Ahmedabad, July 22: At 72, when most politicians make retirement plans, Shankersingh Vaghela was reinventing himself by celebrating his birthday with a three-tier violet and pink vanilla cake on Thursday, reports Times of India.

Flanked by holy men, Nautam Swami of Vadtal Swaminarayan sect and Shivramdasji of Saryudasji temple, at his home,Vasant Vagdo in Gandhinagar, Bapu, as Vaghela is known, cut the cake and said he was not going back to the BJP.

He also launched a website in his name on his birthday, but there was no mention of his Rashtriya Janata Party.

There were rumours of Vaghela returning to the BJP, with chief minister Narendra Modi being in a conciliatory mood. But that was not to be, says the report.

Vaghela, the report said, might have fitted well into Modi's appeasement of Kshatriyas,Harijans,Muslims and Adivasis in his reinvented version of ex-CM Madhavsinh Solankis KHAM politics ahead of the Gujarat assembly polls.

The one buzz that continued, however,was whether Vaghela would be joining Sharad Pawar's NCP. .

The website has pages on the birth pangs of the BJP with pictures of Vaghela and Keshubhai, a young Vaghela on a motorbike ,and his political career till he lost the Panchmahal Lok Sabha seat in 2009. But no detail on the RJP, yet.

In 1995,Vaghela scripted one of Gujarat's most successful coup by whisking away some 72 BJP MLAs to a hotel in Khajuraho and breaking away from the BJP to launch the RJP and become chief minister.They were all called Khajurias after that.

Ranjitsingh Dhillon,a close aide of Vaghela says that the website is under construction.This is to enable youth to reach out to Bapu,and all views on the website will be his.