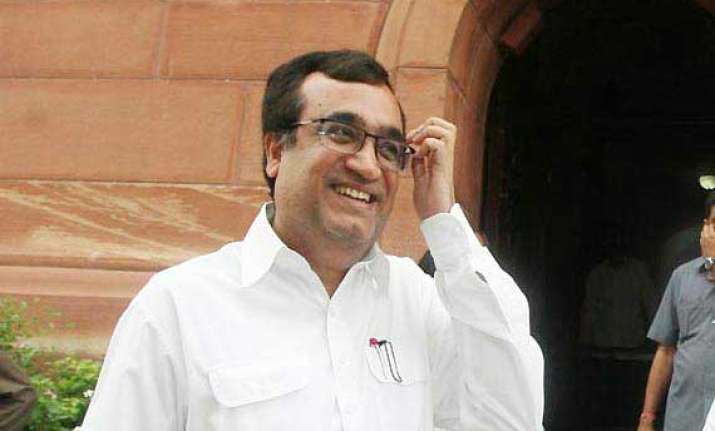 New Delhi: Congress today dismissed BJP's allegations of corruption against party president Sonia Gandhi's son-in-law Robert Vadra saying it was an "act of desperation" by the opposition party which was "panicked" by Priyanka Gandhi's campaign in Rae Bareli and Amethi.  Congress spokesperson Ajay Maken said the allegations have already been rejected by various courts of the country and accused BJP of raising the issue out of desperation.  
"The BJP is panicking due to Priyanka Gandhi Vadra's campaign in Rae Bareli and Amethi. These are old baseless allegations regurgitated at election time as a cheap political stunt by BJP, an act of desperation," he said.  Terming the charges as "baseless", another Congress spokesperson Abhishek Manu Singhvi said they have been raised in the High Court and Supreme Court and rejected there.  In a similar statement, Union Minister Rajiv Shukla said:
"The BJP is in the habit of making baseless allegations against the Gandhi family during elections. There are many kith and kins and sons and daughters of BJP leaders doing business and running companies. Ravi Shankar Prasad does not bring out booklets on them," he said.
Shukla alleged that two national BJP leaders who used to ride two-wheelers now run huge businesses.  "So, why no booklets on them. There is no violation of land ceiling. Stamp duties have been paid and no loan has been taken from Corporation Bank. These are allegations to take political advantage," he said.
BJP today brought out a video and a booklet on alleged land deals of Sonia Gandhi's son-in-law by terming it as 'Robert Vadra model of development'.  Alleging that the 'model' became successful due to the patronage provided by the Gandhi family to Vadra, BJP leader Ravi Shankar Prasad said, "There was gross violation of laws relating to land and environment. The influence of the family helped make Vadra big earnings in the deals."
The six-page booklet titled 'Damad (son-in-law) Shree' refers to the alleged deals of Vadra in Rajasthan and Haryana.  The nearly 8-minute documentary seeks to show how Vadra was allegedly helped in his business deals by the Gandhi family using their clout.