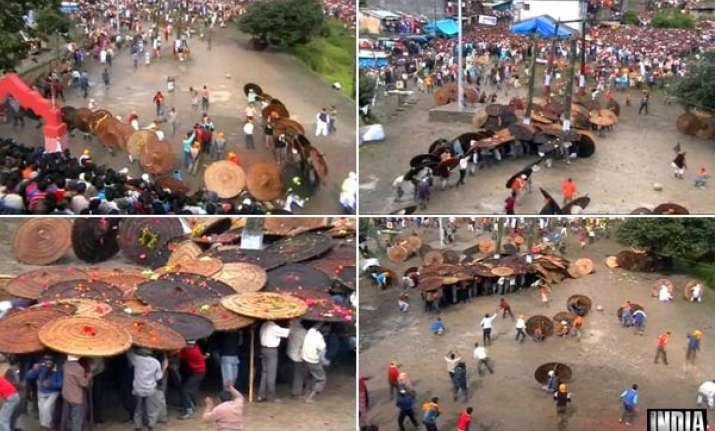 Udham Singh Nagar, Uttarakhand, Aug 14 : Hundreds of tourists flocked to  Devidhura village in Champawat on Saturday to witness the stoning ritual between villagers celebrating Rakshabandhan.

The ritual named 'bagwaal' is held annually between four groups of villagers who  first offer prayers to Maa Varahi goddess inside the temple, and as the priest blows the conch shell, the stoning ritual begins. It lasts for more than 10 minutes when the priest again blows the conch shell to call for a ceasfire.

Men armed with wooden shields throw stones at one another in order to extract blood to be 'offered' to the goddess.

A local mythological story says, the village, infamous for its human sacrifice every year, selected the grandson of a woman for the sacrifice one year. The lady  performed 'tapasya', and legend has it, that the goddess appeared and 'saved' the grandson, but ordained that the village should offer her enough blood that a human being carries in his body.

Till this day, the 'bagwaal' ritual is performed every year to the amusement of tourists, with the police remaining  silent spectators.