Follow us on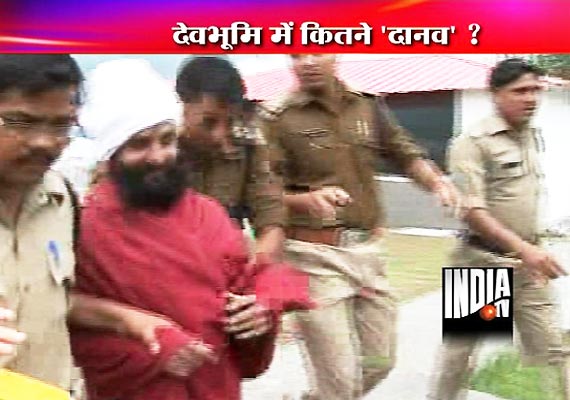 Dehradun, Jun 25: ITBP and National Disaster Reponse Force have arrested several babas (religious men) while evacuating them from Kedarnath over the past two days. They were carrying bagfuls of stolen jewellery and cash,  some of them muddied, amounting to Rs 1.25 crore, officials said.
The money will be handed over to the district magistrate by the NDRF and ITBP, a media report said.
Ajay Chadha, director general, Indo-Tibetan Border Police, said the babas were carrying heavy bags, and insisting on taking the bags with them in the choppers.
"When we told them the bags will be sent to them later because of too much weight inside the helicopter, they declined. We became suspicious, and on searching the bags, we found currencies valued at Rs 1,14,83,000 and jewellery hidden inside."
"What got us suspicious was that some babas lined up for evacuation had with them stacks of fresh, unused notes. A quick search revealed that the notes were all numbered and probably belonged to a bank," a rescue personnel said.
"One of the babas had Rs 62,000 in cash hidden in a dholak (drum). Another had a packet of prasad that revealed Rs 10,000 in sequenced notes. One had sewn Rs 1.2 lakh into his clothes," another rescuer said.
An ITBP official said, survivors are let off if the money appears to be their own, the cash is well used and of different denominations.
In Guptakashi on Tuesday, a saffron-robed man was arrested by the armyjawans with Rs 3 lakh cash and jewellery, suspected to have been snatched from women pilgrims. 
An official disclosed how a baba had an unusually large number of rings and gold bangles on his hands. A search revealed more such ornaments on his person.
"He confessed that he had robbed pilgrims, even cutting off the fingers of a few."
Cash to the tune of crores of rupees changes hands regularly in Kedarnath on any normal day, because of a number of temples there. There is a single bank for the entire town of Kedarnath. That's when the rescuers suspected when they found fresh, numbered notes from the babas.
While the main Kedarnath temple was relatively safer,  donation boxes and treasure chests at other temples had been forced open by vandals, including rogue babas.