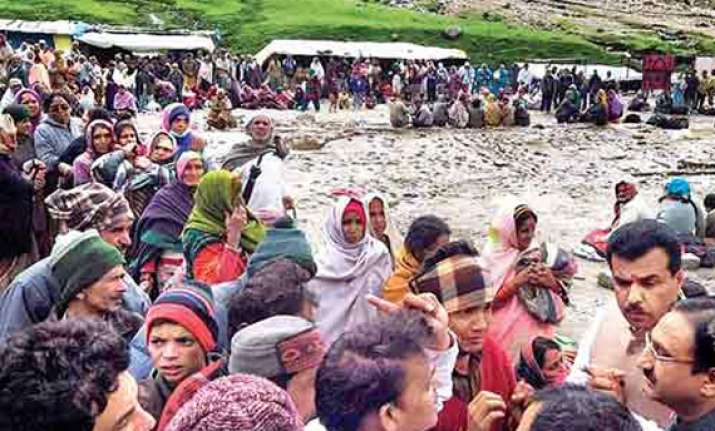 Ludhiana, Jun 24: Fifty-eight members of two families rescued from Hemkunt Sahib reached Ludhiana on Sunday evening and narrated their ordeal.
Parminder Singh Ahuja who returned with his family, including 30 members said: "We have left the city on June 14 for Hemkunt Sahib and reached the next day at the Gobind Ghat shrine in the base of Hemkunt Sahib.
" We stayed at two hotels there. During the intervening night of June 16-17, the hotel owner asked us to leave the hotel as the flood water entered its rooms.
" We got panicky and ran towards the gurdwara sahib as cars, JCB machines, buildings and stones were submerged in the rainwater," Parminder said.
"We cannot forget this tragic scene in our life. I have seen a car floating in a river in which a family was sitting and shouting for help." he said.
"We stayed on a road without having anything for two days. Even we have given Rs 80 for a water bottle. Later, Army personnel rescued us. The role of local administration was not appreciable. Then the Sikh Sangat arranged langar for all," said Sweety Ahuja, another survivor.
Ekam Singh (8) and Khushi (8), who have been studying in KVM School, were also relieved after returning with their family to the city.
Jagjit Singh, another survivor, said: "Our 28 family members and relatives were stranded at the Gobind Ghat for five days. We left the hotel around 2 am on June 17. We were lucky as the hotel building fall down a few minutes after we left it. The power house, generator and all infrastructure were washed away. We stayed for four days on a road that was broken from both sides."
"Yogeswer, a local resident there, gave shelter to women and children of our families. We cannot afford the eatables sold by local shopkeepers as they had been charging 10 times the price. We have seen some disastrous incidents which were still disturbing us. A local driver of a bus lost his life in front of us," Jagjit added.