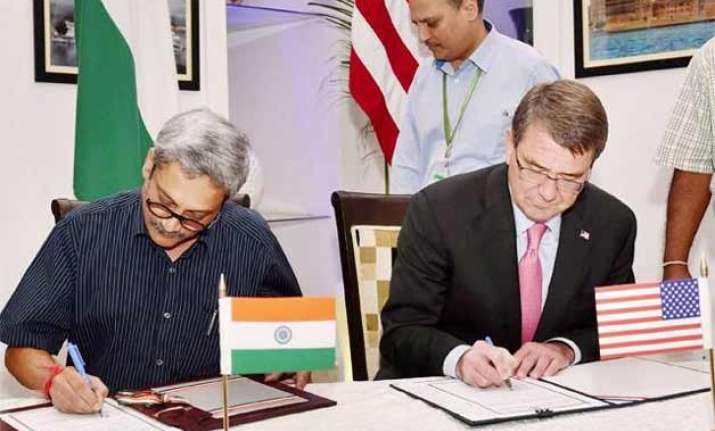 New Delhi: The US will soon replace Russia as the largest supplier of arms to India with a number of new defence deals and joint projects.   
India and US inked the expansive new 10-year defence framework in June that will further its arms contracts that was staggering $10 billion over the last eight years.
According to a report in Times of India, Defence Minister Manohar Parrikar-led defence acquisitions council (DAC) is likely to approve proposal for acquisition of another four P-8I long-range maritime patrol aircraft for almost $1 billion in its meeting slated for Tuesday.
This is a "follow-on contract" as the Navy has already inducted seven of the eight P-8Is ordered from Boeing in the $2.1 billion deal that was finalised in January 2009.
Both the countries will start negotiations next week for the proposed $770 million contract for M-777 ultra-light howitzers. Under the government-to-government deal, 145 artillery guns will be made in India.
Artillery-manufacturer BAE Systems will tie up with an Indian partner to set a facility here. The Ordnance Factory Board and PSU BHEL as well as private players like L&T, Mahindra, Tata, VEM Technologies and Reliance Defence Systems are in the fray for the project.
The deals for 22 Apache attack and 15 Chinook heavy-lift helicopters from Boeing, collectively worth $2.5 billion, are now being examined by the finance ministry before they go to the Cabinet Committee for Security (CCS) for final approval.
New Delhi and Washington have also talked about a co-development and co-production facility in India under their Defence Trade and Technology Initiative. PM Narendra Modi's has emphasised on production within the country under his 'Make in India' policy.
Other projects such as military mobile generators and chemical-biological warfare protection gear have already been finalized. Pacts for Raven mini spy drones and C-130J Super Hercules aircraft are also being negotiated.
Proposed joint projects under the DTTI, such as development of jet engines and aircraft carrier design and construction technologies, which includes EMALS (electromagnetic aircraft launch systems) developed by General Atomics, will raise help US surpass the Russia as India's biggest arms supplier.
India is the biggest buyer of arms in the world, importing nearly three times as many weapons as its nearest competitors China and Pakistan over the last five years.
The main supplier of arms to India in 2009-13 was Russia, accounting for 75 per cent of all imports- reflecting India's need to upgrade and modernise weapons systems dating back to their close relationship during the Cold War.