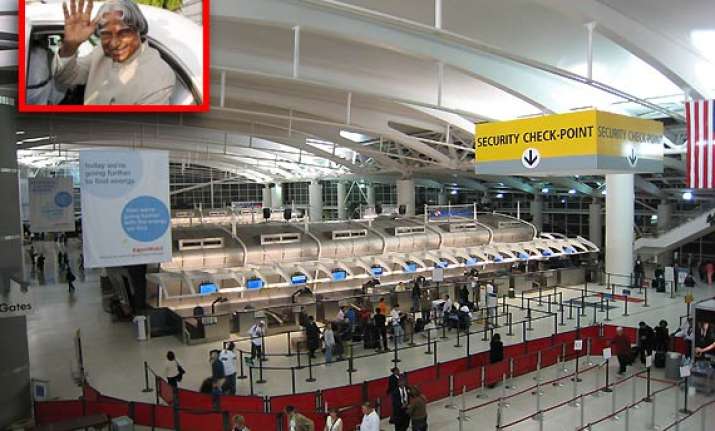 New Delhi, Dec 1: Two officials of US Transportation Security Administration (TSA) involved in frisking former president A P J Abdul Kalam at an American airport in September have been sacked for not following "appropriate procedures", the Rajya Sabha was informed today. 

"Senior TSA officials in a meeting with the India embassy in Washington on November 1, 2011 informed that the two TSA officials involved in the screening incident have been terminated from their job," External Affairs Minister S M Krishna said.

In a written reply in the Upper House, he said the TSA officials also informed that "they would review screening procedure for Abdul Kalam".

Head of TSA Administrator John S Pistole in a letter to Kalam on October 20 has extended his "sincere apology" for the incident and admitted that TSA personnel did not follow appropriate procedure for expedited screening of dignitaries. 

The US Embassy here also issued a release on November 13 stating that United States "deeply regrets" inconvenience caused to the former president, the Minister said. 

The incident involving security screening took place on September 29 at John F Kennedy Airport in New York when Kalam was returning to India after delivering a lecture at Harvard University.

Krishna said Kalam, who does not fall under persons exempted from security screening at US Airports, is, however, extended courtesies by US authorities including escort and private screening in keeping with his stature. 

On that particular day, Kalam was escorted through the screening procedure, which included private screening.  Subsequently, after Kalam boarded the flight, TSA supervisors requested Air India staff for Kalam's jacket and shoes reportedly as these had not been checked as per prescribed procedure during private screening.

Krishna said the TSA officials did not come in direct contact with the former president and the process was conducted through Air India staff.

Air India staff had then sought the consent of Kalam, who had by then removed his jacket and shoes and settled in his seat. These personal belongings were returned to Kalam shortly thereafter.