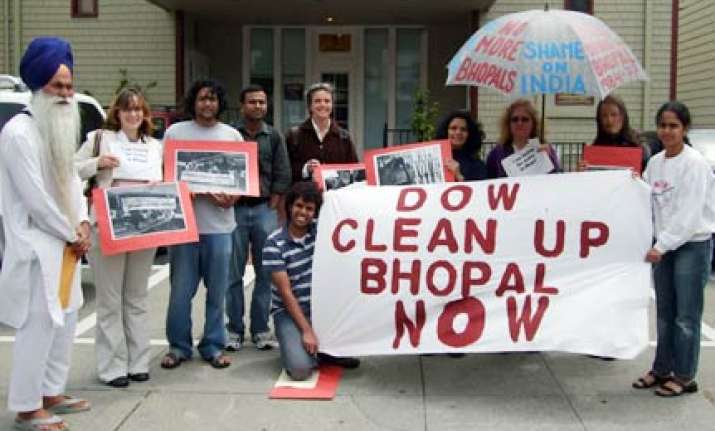 New Delhi: Ahead of the November visit of President Barack Obama, US has stepped up efforts to push India to drop its demand on Dow Chemicals for Rs 1,500 crore compensation for victims of the 1984 Bhopal gas tragedy, reports Times of India.  
Senior government sources said that almost at every level, US officials were telling the Indian government to "resolve it and move ahead".  
On Wednesday, Times Now, in an exclusive report, said US deputy NSA Michael Froman wrote to Montek Singh Ahluwalia, deputy chairman of Planning Commission, in an email that the "noise" in India over Dow Chemicals could have a "chilling effect" on the India-US investment relationship.
Froman's email came as a response to a request by Ahluwalia for US help in getting India access to more World Bank loans for development. India is the world's biggest recipient of World Bank loans and would be reaching the single borrower limit beyond which it is difficult to access more funds.  
In response to this request, Froman said in an email dated July 30, "We are aware of this issue and we will look into it. While I've got you, we are hearing a lot of noise about the Dow Chemicals issue. I trust that you are monitoring it carefully. I am not familiar with all the details, but I think we want to avoid developments which put a chilling effect on our investment relationship."  
Apart from the compensation package, the US chemical giant must also be apprehensive of the insistence of the group of ministers on Bhopal tragedy that the polluter must pay for the clean-up of the site of the Union Carbide gas plant in Bhopal and the neighbouring areas.
Dow Chemicals, which took over the US-based Union Carbide Corporation in 2001, claims that it owes no liability for the Bhopal tragedy. It says that the incident happened much before it took over UCC. It also points out that the Indian operations of UCC had been sold off before they took over the US-based parent company.  
However, the Indian government's demand for compensation marks a rejection of Dow Chemicals' plea. As does the government's decision to make Dow Chemicals a respondent in existing cases in various courts related to the liability for decontamination of the Bhopal site.  
US's activism jars with the anger in India over the denial of justice to the victims of the gas tragedy. "It's typical US short-sightedness," said officials when questioned. No Indian government, they said, can ignore sentiment on such an issue which has been hanging fire for almost a quarter of a century. There is no question of India giving in to the US, they said.  
The email exchange between Ahluwalia and Froman occurred two days before India's case with the IBRD was scheduled to come up in World Bank. In the email, Ahluwalia said that while New Delhi enjoys UK's support, it would also need help from US, which is a member of the World Bank audit committee. Ahluwalia said, "The management wants a relaxation for India. Could you speak to the Treasury to get the US ED on our side? At a time when countries are graduated out of soft assistances it is normal to switch them to IBRD. But we are faced with a sharp reduction."  
When confronted with the email exchange, Ahluwalia conceded, "It is true that US businesses, US government may be concerned about what is happening on that front." He, however, denied that he had interacted on that issue.  
This is the second time in a week that US and India have been on opposite sides of the fence. Last week, the US Congress passed a border security bill that makes H1-B visas more expensive for Indian firms, which New Delhi loudly protested. India's commerce secretary has threatened to take US to WTO on this.  
In the run-up to the Obama visit, the level of dissonance between the US and India is rising. There is deep irritation in India that the US has been using India as a punching bag in its domestic politics. Even though in private conversations, US officials seem to be telling their Indian counterparts that the main object is China. But US does not seem willing to take on Beijing publicly, given the depth of their economic relationship along with the fact that China can return the favour.  
The US-India relationship doesn't have the same kind of investment, but also India is still hesitant in clarifying its position and its interests to the US. That contributes to a situation where the US believes it can pressure India on sensitive domestic issues without fearing a tough response.