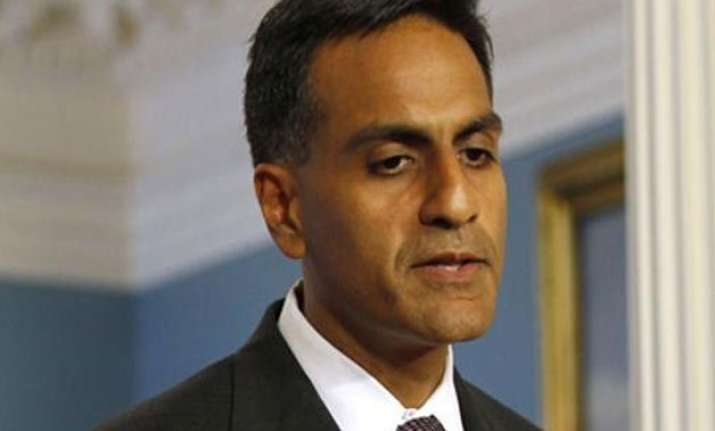 Amritsar:  If India and the US work together, it will not only benefit both the nations but will also deliver significantly for rest of the world, US Ambassador to India Richard R Verma said here today.  
Verma was interacting with scholars and faculty of Guru Nanak Dev University (GNDU) here.  During his visit to Punjab under US Embassy's Outreach Programme, Verma shared his diplomatic experiences with the staff of the university.
Verma said the current times in which he is steering the US policies in India are the conducive times where the connect between two largest democracies at government levels now is coupled with the people to people connect that was always there in the yesteryears.
While throwing light on various strategic partnerships between the two nations, he said "If India and US work together, it is not only that the two nations shall be benefited, but the two together shall be able to deliver significantly for the rest of the world."
Verma expressed happiness for being appointed as the US Ambassador to India, saying the partnership between the two countries and people were growing stronger.
US Ambassador also answered questions that were posed to him on wide range of issues like nuclear treaty, intellectual property rights, Indo-Pak relations and increasing global terrorism, said an official release issued by the university.
Meanwhile, US Ambassador also visited historic Khalsa college here and got glimpses of Punjab's rich history and culture.
He arrived at the College with Embassy officials and witnessed the Sikh history research library and museum, housing rare manuscripts, documents, books and photographs, dating back to 17th and 18th century, said college's release.
Ambassador admired College's heritage building, established in 1892. He was given a rousing reception by Khalsa College management and staff amid welcome dance presentation by college's boys' and girls' troupe separately.  
The students wearing traditional dresses sang songs in his honour while he broke the protocol and shook a leg and interacted with faculty members and students, the release said.
US Ambassador showed keen interest in the educational pursuits of this one of the oldest educational institutions in north India and talked about ample opportunities of collaboration between US and Indian educational institutions.  
The College management gave him a proposal to forge closer ties with various US Universities and Colleges in the area of research in agriculture, bio-technology and sciences.  
US Ambassador Richard R Verma said he was impressed by the grandeur architectural style and history and wrote in the visitor's book of the college,
"Thanks for the great visit to this historic and important place of learning, education and wisdom. May you continue to educate the future leaders of India, Asia and beyond".
"The building is so beautiful I feel I would have studied here", he stated adding it was pleasure to come to this historic institution.
Meanwhile, a delegation of Confederation of Indian Industry (CII) met the US Ambassador Richard R Verma during an interaction organised by Customs Commissioner at Integrated Check Post (ICP) at the Attari.
While listening to CII's concerns and possible solutions to enhance trade between India and Pakistan through land route, Verma said that he would certainly do all he can, to push the governments of both countries to resolve these issues at the earliest and leverage each other's strengths.  
"There is indeed immense potential to save huge transportation costs and time, if more and more trade is done through land route via Attari -Wagah border," Verma said.  
"Though the economic destinies of India and Pakistan are interlinked, but our bilateral trade is below USD 3 billion which has the potential to touch USD 10 billion in the next few years. Our economies are complementary and it is highly imperative that, Pakistan at least declare the Negative list of a few important items, and thus allow import of the rest of items from India", said Pradeep Sehgal, Vice Chairman, CII Amritsar Zonal.
"The biggest hurdle is that, though India has granted Pakistan the Most Favoured Nation (MFN) status, Pakistan has only created a positive list of importable goods from India.  
"If it intends to protect particular industries, it should rather create a 'negative list' of those items and allow export of rest of items from India to Pakistan", he added.
CII also apprised Verma of another major problem of the limit to container and goods movement.
It has also called for filling the communication gaps and timely sharing of updated information between both the countries.  
"The limited mode of communication across borders like lack of roaming and phone services, and Limited air linkages between the two countries also hamper people-to-people contact", added CII Amritsar Zonal Chairman.  
"Another issue is the barter trade in Kashmir. Both sides had allowed trade on barter system in Kashmir to facilitate goods of Kashmiri origin, but unfortunately, now goods from all regions are being traded tax-free in Kashmir, hence adversely affecting trade in other regions on one hand, and amounting to huge revenue loss to both governments.
This medieval practice of trade must be stopped immediately", shared Sehgal.
CII also raised the issue of SAARC Visas and Tickets.  
"It was a standard practice that trade and industry, engaged in trade with such regions, was given SAARC Visas or tickets on passports which is presently being greatly curtailed. Also major trade confederations such as CII should be included in this list of recommending authorities for Visa issuances process", further informed Sehgal.  
US Ambassador Verma while commenting on Pakistan and Afghanistan said that America perceived the situation in these two countries with a long term perspective and strongly believed in strengthening democracies in both these countries.
While interacting with faculty and some representatives of trade and industry at Guru Nanak Dev University, Verma said humanitarian and military aid to Pakistan was to fight poverty, developing infrastructure and bolster it's capabilities to fight terrorism.