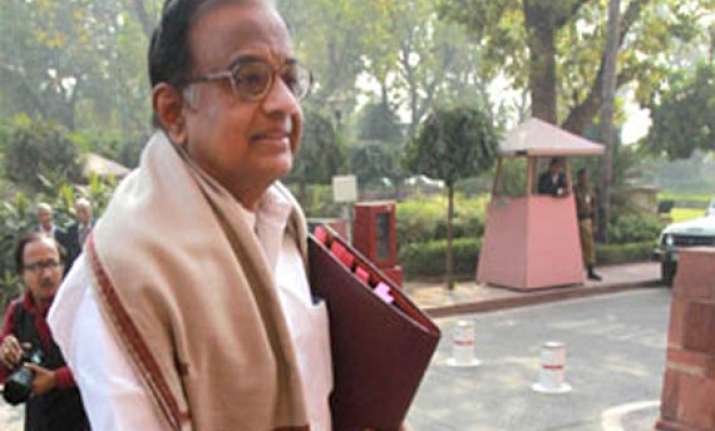 New Delhi, Dec 15 : Opposition BJP today disrupted Rajya Sabha proceedings over media reports alleging that Home Minister P Chidambaram helped a former client.

BJP members showed copies of an English daily published from here on Chidambaram's alleged role and trooped into the Well shouting slogans, forcing adjournment of the House till noon.

As soon as the House met for the day, Chandan Mitra (BJP) raised the issue of Chidambaram's alleged interest in a legal dispute of Delhi-based Metropolitan Hotel and its owners, who he had represented as a lawyer prior to becoming a minister.

He alleged conflict of interest as his colleagues including M Venkaiah Naidu and others joined him in raising the issue.

To counter them, ruling Congress members stood up and displayed copies of another English daily which had a report on a trust where Anna Hazare, as a member, had allegedly grabbed land in Pune.

"Please don't show newspapers here... what is this?"Chairman Hamid Ansari remarked. "Please, no waving of papers."

Minister of State for Planning Ashwani Kumar sought a ruling from the Chair on what constituted a conflict of interest saying a minister could not move a bill because his son was a practicising lawyer, in an apparent reference to HRD Minister Kapil Sibal.

"We need a pronouncement by the Chair," he said.

Minister of State in Prime Minister's Office VNarayanasamy said Mitra cannot raise the issue as the paper he edited had published the report. "He should not be allowed to raise the issue in the House. This is conflict of interest."

Media reports alleged that the Home Ministry under Chidambaram had earlier this year directed withdrawal of FIR against one of his former clients accused of cheating and forgery.

Ansari asked members to take their seats and allow the Question Hour to proceed."Let us get on with the Question Hour," he said, calling Ravi Shankar Prasad (BJP) to put the first listed question.

Prasad said he was willing to put the question but there has to be order in the House for him to do so.

But, Ansari's pleas for order went unheeded as some BJP members rushed into the Well."You will not come into the Well... please go back to your place...what is this," he remarked before adjourning the House till noon.