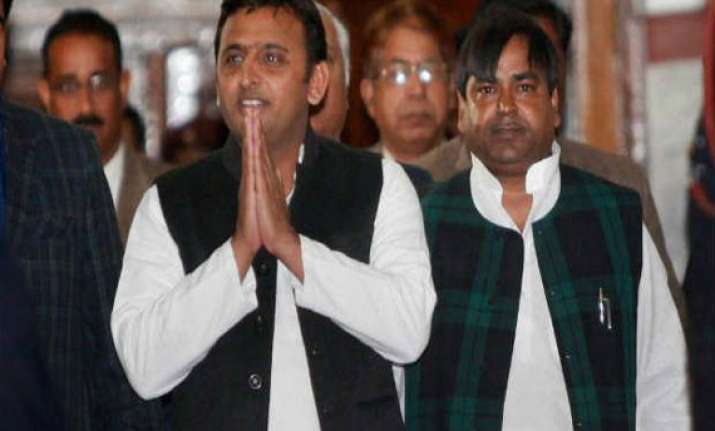 Lucknow, Feb 19 :  Aiming to strike a balance between completing the works promised in the ruling party's election manifesto and populist measures with an eye on the coming Lok Sabha polls, Uttar Pradesh Chief Minister Akhilesh Yadav today presented a Rs 2,21,201.19 crore annual budget for 2013-14.
While no new tax has been proposed, the Budget makes a provision of Rs. 7,787,80 crore for 219 new schemes and also earmarks Rs. 26,641 crore for further development of infrastructure facilities like roads, bridges and power.
The Budget allocation proposed for the next fiscal is 10 per cent higher than for the current financial year. For fulfilling ruling party's election promise like loan waiver scheme for farmers, a provision of Rs. 750 crore has been made while another Rs. 200 crore has been allocated for free irrigation for farmers and Rs. 375 crore for farmers accident scheme, among others.
In his Budget speech, Yadav who also holds the Finance Ministry portfolio, said against the assurance of providing loan to farmers at 4 per cent interest, the government was making it available at 3 per cent as short term loan.
He said a sum of Rs 1200 crore have been earmarked for unemployment allowance and Rs 350 crore for "hamari beti uska kal yojna" for 10th pass girl students from minority community.
With regard to fulfilment of another promise, the Budget earmarks Rs. 600 crore for distributing two sarees each to all women above 18 years of age of the BPL families and blankets for those above 65 years of age and Rs. 400 crore for providing battery for solar energy run rickshaws.
In a decision that may not go down well with the main opposition BSP, the Budget has also made a provision of Rs. 40 crore for a rail overbridge which would pass over BSP state headquarters.
The proposed overbridge would also be close to Mayawati's residence in posh Mall Avenue locality allotted to her in the capacity of former chief minister.
The Budget has a provision of Rs 287 crore for construction of roads under the Dr Ram Manohar Lohia Samagra Vikas Scheme named after the socialist ideologue.
The Budget has proposed Rs 11,732 crore for improving the dismal power sector in the state. This is 24.5 per cent more than last year's allocation.
It has also proposed Rs 7,848 crore for roads and bridges, Rs 291 crore and Rs 109 crore respectively for special schemes and roads for the backward Purvanchal and Bundelkhand region.
While Rs 21,520 crore have been earmarked for basic education, a sum of Rs 10,367 crore have been allocated for secondary education and Rs 8,225 crore for medical health and family welfare.
A sum of Rs 1,456 crore has been provided for social welfare which includes funds to compensate for scholarship and fees for students belonging to scheduled castes.
An allocation of Rs 777 crore have been provided to compensate for scholarships and fees of students belonging to the minority community, which is Rs 100 crore more than last year. The Budget has also provided Rs 200 crore for imparting modern education in madarsas.
Besides Rs 300 crore have been earmarked for constructing boundary walls in graveyards of minority communities and Rs 34 crore for setting up multi purpose educational hub in minority dominated areas.
A sum of Rs 492 crore has been provided for doing away with critical gaps in minority dominated areas. With an aim to deal with the massive problem of Japanese encephalitis in the eastern districts of the state, the Budget has an initial provision of Rs 5 crore for starting construction of a 500 bed paediatric institute in Gorakhpur medical college and another Rs 8 crore for MRI facility.
Yadav reiterated the government's resolve to set up state nutrition mission and a metro in Lucknow to meet the growing demand for better public transport system.