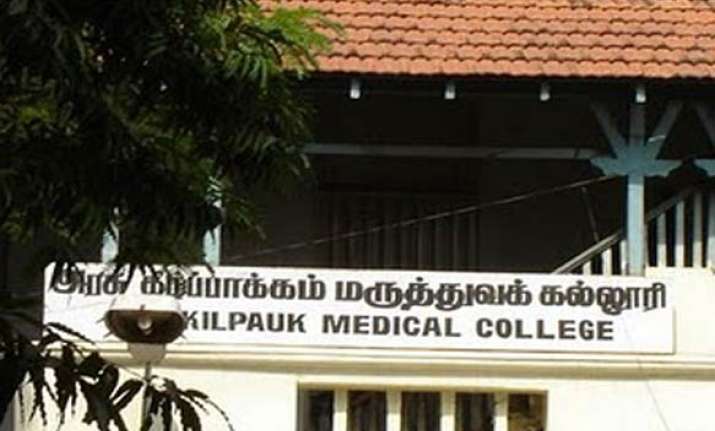 Chennai, July 23 : At least two patients were killed when fire broke out in the intensive medical care unit of the government-run Kilpauk Hospital in Chennai early Saturday. 

Police suspect an electrical short circuit in the air-conditioner system in the doctor's room inside the unit triggered the fire at 5.10am.

Hospital authorities confirmed that two patients -- Tamil Selvi, 45 and Krishna Bai, 72 -- died in the mishap.

According to eyewitnesses, the hospital ward boy Vinoth was the first to notice thick smoke billowing out from the doctor's cabin inside the intensive medical care unit, where eight patients had been admitted.

The two doctors inside the room and the ward nurses called the fire service for help. The team then moved each of the patients outside the ward

."The entire ward was covered in smoke. We could not even see each other. Some of us physically lifted patients from the room," said Vinoth.

The hospital's medical superintendent Dr S Geethalakshmi claimed the hospital did its best to ensure patients safety.

"All patients are now moved to the critical care unit in the adjacent block," she said. Krishna Bai, 72, who was admitted on Wednesday with high blood pressure, uncontrolled diabetes and asthma, and another patient Tamil Selvi, who also had asthma died while they were being moved out of the ward.

"All the patients in the ward were very sick. We don't know if the death was due to suffocation or their own medical condition. We will have to wait for the postmortem examination results," Dr GeethaLakshmi said.

The firemen who came to the hospital at 5.30 am, put out the fire in less than 15 minutes. Some beds in the ward also caught fire.

Kilpauk Deputy Commissioner of Police K Bhuvaneshwari said the cause of fire suspected to be a short-circuit in the air-conditioner. Senior doctors in the hospital complained that the electrical equipment were poorly maintained in the hospital.