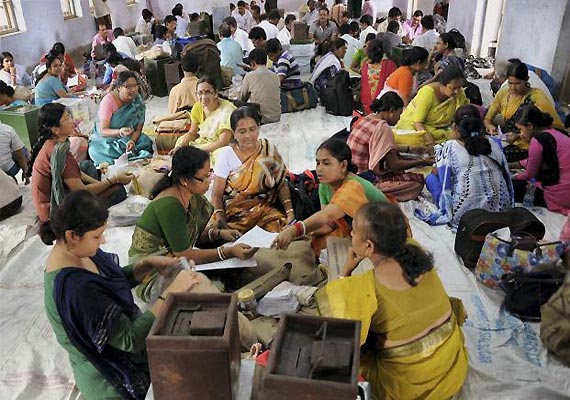 Kolkata, July 25: The fifth and final phase of the West Bengal panchayat polls claimed two lives Thursday.
A CPI-M activist was killed in an attack allegedly by rival party goons, while an aged voter died of cardiac arrest due to excessive heat.
Narendra Barman collapsed and died after standing for long in a queue under hot and humid conditions outside a polling booth in Jaleswar of Jalpaiguri district. His family members alleged that despite being ill and feeble, some party activists forced him to go to cast his vote.
In Itahar of North Dinajpur district, Communist Party of India-Marxist worker Abdul Aziz was killed after he was attacked allegedly by goons patronised by the ruling Trinamool Congress.
"Trinamool goons were trying to snatch ballot papers in a booth in Itahar when Aziz tried to confront them. He was badly beaten up and later succumbed to injuries," CPI-M leader Rabin Deb said.
Deb claimed nearly 50 of his party activists and supporters were injured Thursday in attacks by Trinamool activists in the four districts of Cooch Behar, North and South Dinajpur and Jalpaiguri where polling is going on.
The Trinamool too claimed attacks on its party activists by opposition-patronised goons.
"At least 30-40 of our party activists and supporters have been injured after being attacked by CPI-M and Congress goons," Trinamool leader and North Bengal development minister Gautam Deb said.
In the first four phases, 23 people have died in violence related to the five-phase polls which began July 11.
The Congress has blamed the state government for the violence and loss of lives.