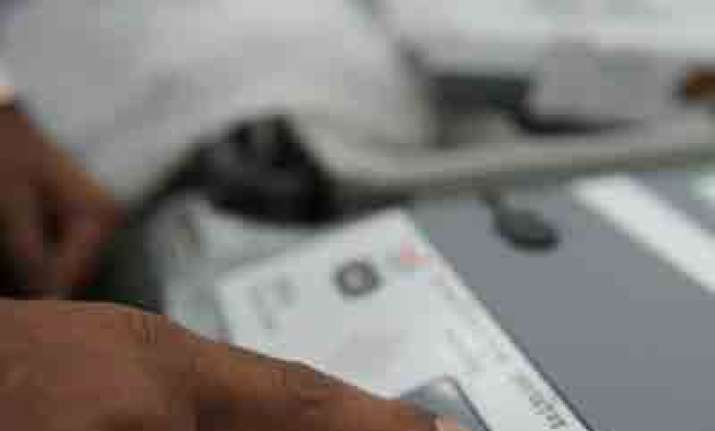 Chandigarh: Among the over 1,000 contestants in the fray for the October 15 Haryana polls are two couples from bigwig families who are slugging it out for their political survival.
Former Union Minister Venod Sharma and his wife Shakti Rani has entered the poll arena from Ambala City and Kalka seats, respectively, from Jan Chetna Party (JCP).  Similarly, Haryana Janhit Congress (HJC-BL) supremo Kuldeep Bishnoi and his wife and sitting MLA Renuka is fighting it out from Adampur and Hansi seat, respectively.  Sharma, once the man friday of Chief Minister Bhupinder Singh Hooda, founded Haryana Jan Chetna Party (V) after partying ways from Congress. He was with Congress for four decades.
Sharma was a Congress MP in Rajya Sabha (1992-1998) and a party MLA from Ambala (2005-2014). He was elected to the Rajya Sabha from Punjab n April 1992. In 1999, he resigned from Congress during general elections over the after his son Manu Sharma was involved in the Jessica Lal murder case.  He made made a comeback to the party in 2004 and won the Assembly election from Ambala city in 2005. He was re-elected from the seat in 2009.
In April 2014, he was expelled by Congress for allegedly campaigning against it in the elections. On May 2, he resigned as an MLA and on June 23 formed Haryana Jan Chetna Party (V).  Sharma's party has forged alliance with HJC (BL) with the parties contesting 25 and 65 seats, respectively. Haryana has a total of 90 Assembly seats.
He has fielded his 61-year-old wife Shakti Rani from the Kalka seat. A political greenhorn, Shakti is slugging it out to keep the Sharma family flag afloat in politics.  Sharma has expressed confidence that "JCP-HJC alliance will finish close to majority."
Meanwhile, HJC chief Kuldeep Bishnoi (46), who is aspiring to be the chief minister, is taking on former confidante Kulveer Singh Beniwal (47) of INLD from Adampur seat, largely represented by his family.
Adampur segment, which is considered a stronghold of the family of former chief minister Bhajan Lal, has been represented by Lal himself, apart from Kuldeep and his wife Renuka Bishnoi. Lal has won eight times from here.  Stakes are high for the Bishnoi family, especially after its fallout with BJP and the recent drubbing at the hands of INLD's Dushyant Chautala in the parliamentary polls from the Hisar parliamentary segment of which Adampur is a part.
Bishnoi's campaign in Adampur is spearheaded by his son Bhavya Bishnoi.  Bishnoi's wife 40-year-old Renuka is fighting from Hansi seat. In the last elections, she was elected from Adampur seat.
Besides the couple, Bishnoi's elder brother and former deputy chief Minister Chander Mohan is also trying his luck from the Nalwa seat. He had been five-time MLA from Panchkula seat on Congress ticket.
"It is not my election. This election is about the people of Adampur, their prestige and honour. They will campaign for their honour. The area has faced utter neglect at the hands of the Congress government," Bishnoi has said.  Bishnoi, a former MP, was a member of the 15th Lok Sabha representing the Hisar constituency in Haryana. Prior to this, he was elected to the 14th Lok Sabha and had represented the constituency of Bhiwani.
Bishnoi and his father Bhajan Lal had founded HJC (BL).  The party had fielded candidates on 89 of the 90 seats in the last Assembly elections in October 2009 and won six of them.  Bishnoi had contested the 2009 elections from Adampur and defeated Jai Prakash, a Congress candidate and former Union Minister.
He later won the Hisar 2011 Lok Sabha by-election, following the death of his father.
In September 2013, Bishnoi declared his support for the BJP by backing the party's Prime Ministerial candidate Narendra Modi. However, ahead of Assembly polls, HJC parted ways with BJP.
Besides the two couples from popular political families, INLD supremo Om Parkash Chautala's younger son Abhay is fighting from his traditional Ellenabad seat.  Chautala's elder son Ajay, who along with his father is in jail after his conviction in a teacher recruitment scam, has fielded his wife Naina from Dabwali and his MP son Dushyant from Uchana Kalan. The families belong to the club of crorepatis in the state.