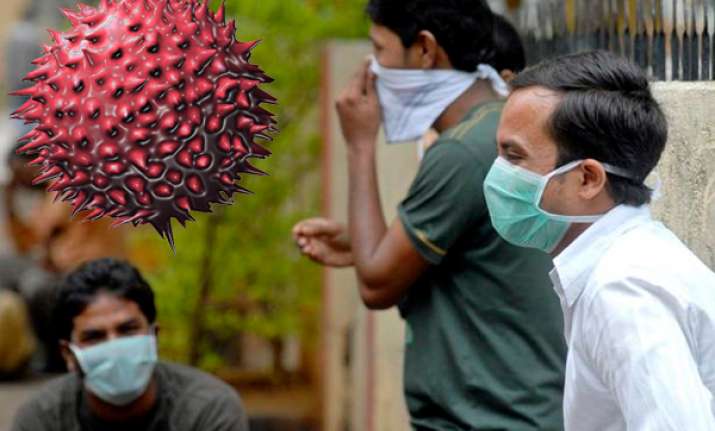 New Delhi, Mar 23:
The dreaded H1N1 virus (swine flu)  is back with 129 cases and 12 deaths reported in the last 20 days from four states, official sources said . Six of them have died in Pune alone.
The largest number of 69 cases and six deaths  have been reported from Maharashtra, followed by 28 cases and five deaths from Rajasthan.
The death toll in swine flu cases climbed to six  in Pune within a span of one week after a 39-year-old man died in a city hospital on Wednesday. Sanjay Vijay Joshi, a resident of Sadashiv Peth near Gopal High School, who was admitted to Sahyadri Hospital died of swine flu, Pune Mirror reported.
Joshi was admitted on March 19. The cause of his death has been mentioned as viral pneumonitis with H1N1 positive in the hospital records.
Municipal Commissioner Mahesh Pathak said there was no reason to panic, because swine flu was just  like another flu
Meanwhile, the number of H1N1 positive cases rose to 98 on Thursday in Pune.
In the wake of rising H1N1 cases, the Pune Municipal Corporation has decided to vaccinate doctors and paramedical staff handling swine flu patients before the vaccine stock expires on March 27.
Serum Institute of India, which manufactures swine flu vaccine and immuno-biologicals, has handed over five thousand doses of  Nasovac, an intra-nasal vaccine, to PMC.  
Pune Mayor Vaishali Bankar wanted to utilise the stock to vaccinate people in her ward. She had asked ST Pardeshi, in-charge of PMC health department, to make arrangement for swine flu vaccination camp in her ward. But at the insistence of Pardeshi she called off her plans.
Pardeshi said, "We told the mayor that our doctors are susceptible as they are handling swine flu patients. Instead of vaccinating general public, it will be better if it is given to the doctors and the paramedical staff. Finally, she agreed."
Bankar wanted to organise a vaccination programme at Gliding centre, Ghondhalenagar in Satavwadi area. Dr Cyrus Poonawala, chairman of the institute, gave his approval and on Tuesday afternoon, the institute handed the doses to the PMC doctors.
In New Delhi, the Union Health ministry  said there was no cause for panic and the affected states have been asked to strengthen their surveillance to check the further spread of the virus.
"The Health Ministry is monitoring the situation and there is no cause for worry. The states where cases had been reported have been advised to step up surveillance to control the further spread of the virus," Health Secretary PK Pradhan said.
As per data released by the Health Ministry today, in the first 21 days of March, a total of 129 positive Influenza-H1N1 cases have been reported, with a total of 12 deaths. Of these, 69 cases are from Maharashtra, 27 from Andhra Pradesh, 28 from Rajasthan and five from Karnataka.
Out of 12 deaths, six have so far been reported from Maharashtra, five from Rajasthan and one from Andhra Pradesh. No death has so far been reported from Karnataka.
The Emergency Medical Relief Division of Union Ministry of Health and Family Welfare is following the developments in the states of Rajasthan, Maharashtra, Andhra Pradesh and Karnataka for H1N1 cases.
The virus which had spread across the world in 2009 claimed around 20,000 lives. Since then, the H1N1 cases have been on the decline across the world, including in India, ministry officials claimed.
Swine flu tests are available at all government facilities and the medicine Tamiflu is available indigenously on prescription.