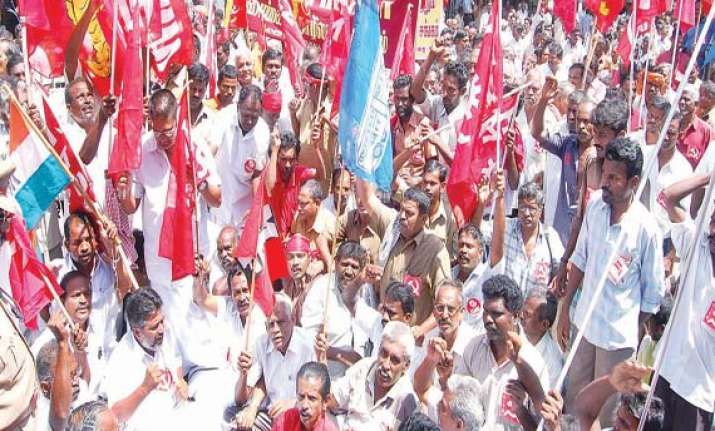 New Delhi, Feb 18: The central trade unions today remained firm on their call for a two-day strike despite an appeal from Prime Minister even as they were set to meet  senior Union Ministers tonight on his assurance of looking into their demands.
Prime Minister Manmohan Singh had made an appeal yesterday to all the 11 trade unions to withdraw their call for a nation-wide strike on February 20, saying that it would cause loss to the economy and inconvenience to general public.
The Prime Minister had also requested his senior Cabinet colleagues A K Antony, Sharad Pawar, P Chidambaram and Labour Minister Mallikarjun Kharge to hold discussions with representatives of labour unions who have called the stir on issues of price rise issue and violation of labour laws.
"We will be meeting (Defence Minister) A K Antony tonight at 0800 hours to discuss the assurance given by Prime Minister that issues raised by labour unions are being looked into. But the strike is still there. We have not called it off," CITU General Secretary Tapan Sen told PTI here.
He said the labour unions are waiting for some concrete action by the government.
AITUC General Secretary Gurudas Dasgupta said that representatives of all the 11 central trade unions will be present during the meeting.
"We will hold consultations among ourselves on future course of action but there is no question of calling off the strike merely on basis of assurances," he said.
Union Agriculture Minister Sharad Pawar, meanwhile, told reporters that he will be present during the meeting.
"I got a communication last night from the Cabinet Secretary that Prime Minister has requested four of his colleagues to meet trade union representatives today at 0800 hours," he said.
Asked about the issues which will be discussed during the meeting, Pawar said, "When we meet, then only I will tell because I am not dealing with this subject. I am part of that group. I will get opportunity to hear what exactly they want," he said.
"We have called the strike for certain demands. Let us see what the government has to say and offer us. Let us see what does it think about our demands. Strike cannot be called off only on basis of a meeting with senior Ministers," Sen said.
AITUC National Secretary Amarjeet Kaur also said that the unions are together in their call for the strike and all the decisions will be taken jointly.
"Unions are firm on the strike. We are together on this. We want our issues to be discussed and settled permanently. So until that happens, there is no question of calling off the strike," she said.
The Prime Minister had yesterday expressed confidence that the meeting of senior minister and labour union representatives will be positive.
"I am confident that these discussions would result in a course of action that is acceptable both to the trade unions and the government," he had said.
The strike has been called jointly by Bhartiya Majdoor Sangh (BMS), Indian National Trade Union Congress (INTUC), All India Trade Union Congress (AITUC), Hind Mazdoor Sabha (HMS), Centre of Indian Trade Unions (CITU), All India United Trade Union Centre (AIUTUC) and other such organisations.
The Independent Federation of Workers and Employees too has joined the protests.