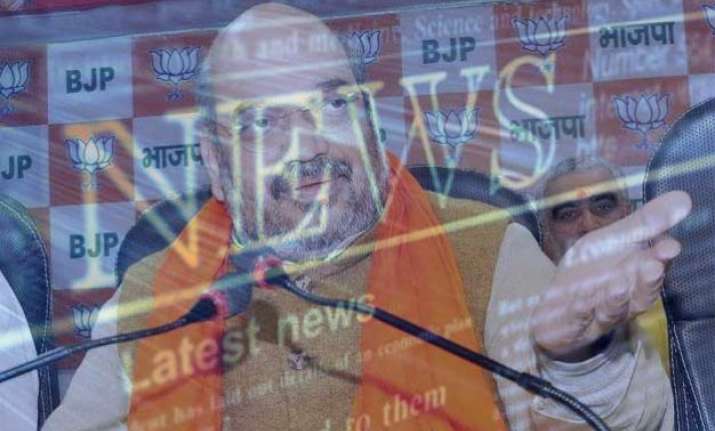 Puducherry BJP functionaries to meet Amit Shah
BJP President Amit Shah will hold consultations with a five-member delegation of party's Puducherry unit in Delhi today. The meeting is in connection with the assembly elections due next year in the union territory.
Uttarakhand Congress shifts to begin 24-hour fast at Jantar Mantar
The ruling Congress in Uttarakhand will today begin the 24-hour fast against the Center's alleged neglect of the state in Delhi at Jantar Mantar. Earlier, the party had decided to conduct it from outside the Prime Minister's residence, but later moved it to Jantar Mantar.
Punjab Congress to gherao state Assembly on land bill
The Punjab Congress will do gherao at the state Assembly today to protest against the dilution of the land acquisition legislation. Noticeably, Akali Dal, which is an ally of Narendra Modi led NDA government at the center had voted in favor of the amendment bill in the Lok Sabha
NCP youth wing to hold anti-toll protest
Sharad Pawar-led NCP's youth wing will today hold a protest against toll payment across the state of Maharashtra.  The political outfit has urged the people not to pay toll anywhere in the state.
Two day Delhi assembly session to begin today
A two-day Delhi Assembly session will be convened on Tuesday for tabling the vote on account for the first three months of the next financial year even as the "full budget" will be presented in the month of June.
Day-long MP assembly session today
Madhya Pradesh government will hold a day-long session of state assembly today to transact financial and legal business of the central administration.
Rajnath Singh to visit Bhopal today
Union Home Minister Rajnath Singh is scheduled to visit Bhopal today. He will lay the foundation stone of laboratory, which would be established inside the infamous Maulana Azad National Institute of Technology.
Bandra bypoll: Narayan Rane to file nomination papers today
Senior Congress leader Narayan Rane will today file his nomination papers for the by-election to Bandra East Assembly constituency slated for April 11.
SC verdict on validity of IT Act's section 66A today
The Supreme Court will today pronounce its verdict on a batch of petitions challenging the validity of section 66A of the Information Technology Act, 2000.
Noticeably, the petitioners have described section 66A as vague and ambiguous and beyond the ambit of article 19 of the Constitution which guarantees freedom of speech.