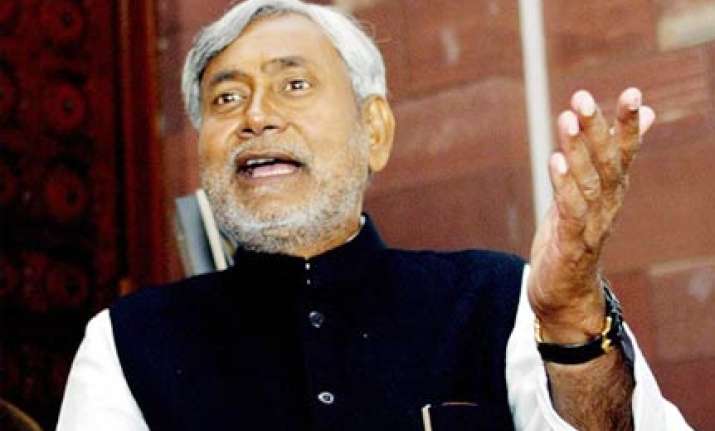 Bihar Chief Minister Nitish Kumar sought to downplay the rift with alliance partner Bharatiya Janata Party over the return of flood relief money to Gujarat, saying there was no cause of tension.  
"Tension mat lijiye, relax kijiye," Kumar told media-persons before leaving for his Biswas Yatra in Nalanda district. He was asked about suggestions by BJP leaders that he should reconsider his decision on returning Rs five crore for the Kosi flood relief to the Gujarat government or spell out his strategy on whether he wanted to continue the alliance with the saffron party.  
Earlier, Kumar and his deputy and senior BJP leader, Sushil Kumar Modi were seen talking with each other at the swearing-in ceremony of the Chief Justice of the Patna High Court Rekha Manoharlal Doshit at the Raj Bhavan. Modi had decided to stay away from the Biswas Yatra at Paliganj.  
State minister and National Democratic Alliance convenor Nand Kishore Yadav, who represents the Patna City constituency, had also pulled out from the Chief Minister's 'Biswas Yatra' on Sunday.
The crisis in the NDA emerged after Nitish reacted sharply to an advertisement in the local dailies on the eve of the June 12-13 BJP national executive meeting which said that the Gujarat government, led by Narendra Modi, had contributed liberally towards relief for victims of the 2008 Kosi floods. Nitish had termed this as 'uncivilised', saying any gesture of help should not be proclaimed publicly.  
Nitish had also objected to another advertisement showing him holding hands with Narendra Modi, the hardline Hindutva face of BJP.  
The JD-U leader's posturing is understood to be in keeping with his attempt to woo the Muslim electorate inpoll-bound Bihar. The opposition RJD-LJP combine has charged Kumar with playing politics over flood relief and alleged that his action as 'absurdity'. PTI