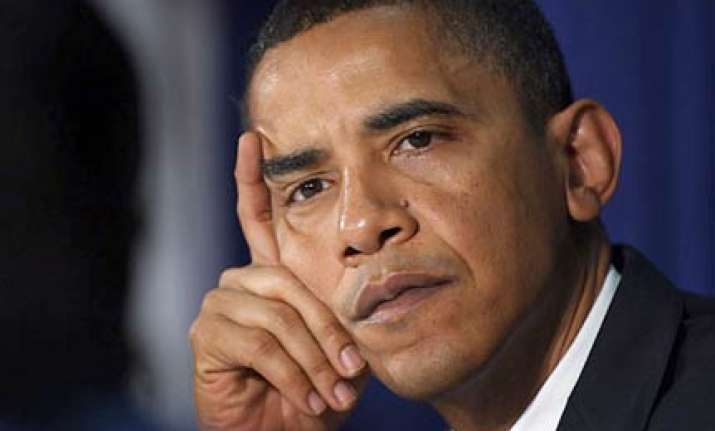 New Delhi, Oct 22 : A teleprompter will be in use for the first time in the Central Hall of Parliament when US President Barack Obama addresses MPs on November eight.
As per the tentative programme being worked out, the address by Obama, who once said that "America has its roots in the India of Mahatma Gandhi", would not be for more than 20 minutes.
The President's programme in Parliament House complex itself will be less than an hour affair, Parliament sources said today. It is scheduled to start at 5 PM.
The programme will feature a welcome speech by Vice President Hamid Ansari and a vote of thanks by Lok Sabha Speaker Meira Kumar. The US President would also sign the Golden Book, the visitors' diary of Parliament.
While US First Lady Michelle Obama would be accompanying her husband, there was no confirmation whether Secretary of State Hillary Clinton would be part of Obama's entourage, Parliament sources said.
Besides the visiting dignitary, those who would be on the dais in the historic Central Hall along with Obama, the Vice President and the Speaker would be Prime Minister Manmohan Singh. Michelle will be given a special seat in the front row.
Obama will take the help of a teleprompter to deliver his address to the 780-odd members of Lok Sabha and Rajya Sabha, sources said.
Parliament authorities said this will be the first time that such a facility will be arranged in the Central Hall.
Obama's reliance on the teleprompter is unusual--not only because he is famous for his oratory, but because no other president has used one so consistently and at so many events, large and small.
Teleprompters are textbook-sized panes of glass holding the prepared remarks of the speaker and which rests on top of a tall, narrow pole and flank his podium during speeches.
The authorities are also leaving no stone unturned to give a red carpet welcome to Obama.
Parliament House is being given a make over for the upcoming visit of the US president. Right from the circular facade of the eight-decade-old structure to paintings in the corridors and magnificent Central Hall, Parliament is being refurbished.
Hectic preparations are on in Parliament and the Central Hall has been shut for a fortnight for renovation, which includes polishing, painting and carpeting.
On security concerns during the ceremony, the Lok Sabha security wing is holding review meetings with the External Affairs ministry and other agencies. PTI