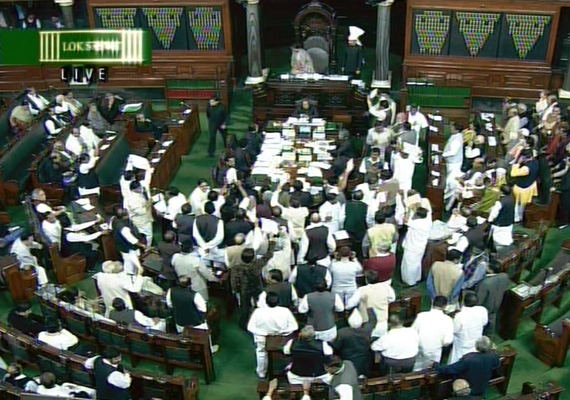 New Delhi, Mar 28:
The Telangana issue disrupted proceedings in the Lok Sabha for the third day today amid opposition demand that government should hold talks with those agitating for statehood.
Minutes after the House met for the day, members of the TRS, TDP and Congress stormed the well forcing Speaker Meira Kumar to adjourn it till noon.
When the House reassembled during Zero Hour, Leader of the Opposition
Sushma Swaraj
raised the issue as TRS, TDP and Congress members again entered the well shouting slogans to demand immediate tabling of a bill to create separate Telangana.
"The Prime Minister and the Leader of the House are both present..... the government is neither creating Telangana, nor is it talking to them (protesters). At least hold talks with them to resolve the issue," Ms. Swaraj said, adding the protests were leading to "numerous suicides".
Maintaining that the proceedings had been disrupted over the past week on the issue, she also urged the Speaker to allow the protesting members to have their say in the House.
Ms. Kumar said she had been asking these members to speak on their demands for the past two days but to no avail.
The members of the three parties belonging to Telangana region of Andhra Pradesh paid no heed to the Speaker's repeated requests to go back to their seats and continued to raise slogans.
They carried placards which read 'Introduce Telangana Bill immediately', 'implement your promise', 'indecision hurting more than division of state' and 'how many more deaths are required for separate Telangana'
As the uproar continued, the Speaker adjourned the House till 2 p.m.
Earlier during Question Hour, these protestors were joined by JD(U) members who were demanding coal linkage for Barauni thermal power plant in Bihar.