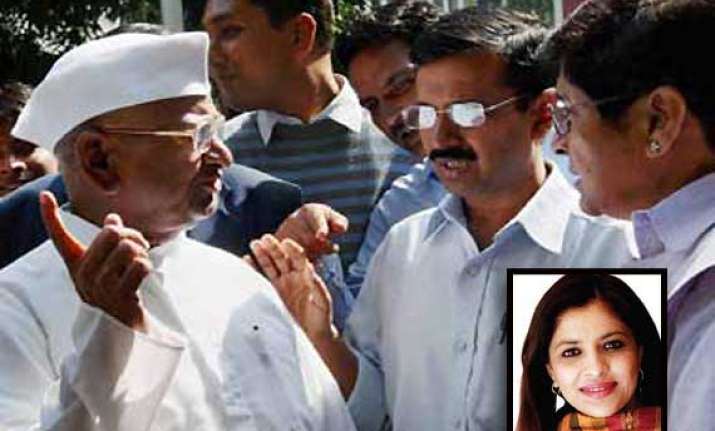 New Delhi, Jun 9: At a time when Team Anna is fighting against the government, its member Shazia Ilmi was sought to be part of a media contingent travelling with Prime Minister Manmohan Singh to Mexico and Brazil later this month but the nomination has been rejected.
Shazia, who was an active journalist earlier but has lately been associated with the Anna movement, was nominated to be part of the media delegation on behalf of urdu newspaper Siyasat Jadeed of Kanpur.
Sources said the letter of nomination was written by the Business Development Manager after the Ministry of External Affairs sought the name of the journalist who could travel with the Prime Minister.
However, even as the Prime Minister's Office was in the process of finalising the names, the Editor's brother Aijaz Ilmi, projecting himself as the Chairman of the paper's Editorial Board, wrote to the External Affairs Ministry saying that she was not an active journalist but was working with Team Anna.
In view of the "confusion", the PMO has decided not to include Shazia in the media entourage.
The Prime Minister is travelling to Mexico for the G-20 Summit and Brazil for a bilateral visit from June 16.  The newspaper's Editor Irshad Ilmi said as editor he nominated Shazia for the assignment.
"She writes for us occasionally. She is with Team Anna.  She is not the lone spokesperson for Team Anna. She is an accredited journalist", Irshad Ilmi said.
"This is an attack on press freedom. The government cannot arm twist the media", he said.
Shazia said the newspaper was invited to join the Prime Minister's entourage and she was nominated by the editor.  
"I am a Team Anna member but I am not going as a Team Anna member but as a journalist. Just because I am associated with a movement, it does not mean that I cannot do my job as a journalist", she said.