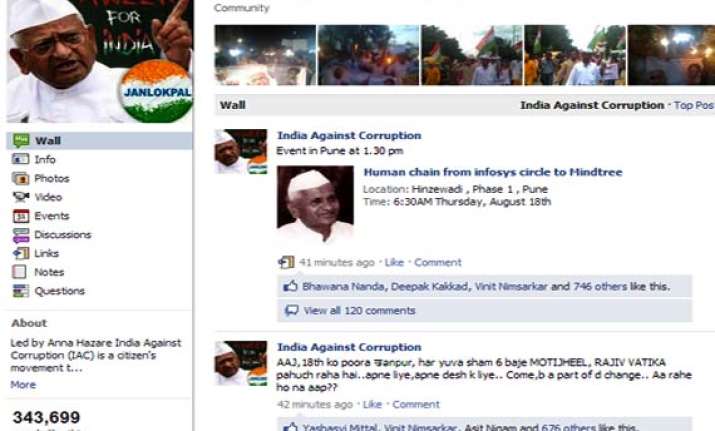 New Delhi, Aug 18: India's biggest online social revolution is on. Anna Hazare's campaign managers have taken over all forms of communication technology flooding Facebook, Twitter, mail servers, web fora and phone lines with a unity never before witnessed on the web, reports The Hindustan Times. 

The campaign, India Against corruption (IAC) has more than three lakh 'likes' on its Facebook pace and 1.3 crore missed calls in support. The IAC website also has its own mobile and android applications.


Team Anna's twitter handle, Janlokpal, has over 35,000 followers, and remains buzzing with a minimum of three tweets per minute. Campaigner Kiran Bedi tweeted till minutes before her arrest. 

An international social activism website, Avaaz.org which started a campaign on tuesday, garnered support from over a lakh within a day. Anna's YouTube videos were viewed by over a lakh.

"We believe communication is the key in every aspect of management and leadership", said Kiran Bedi. Other social networking regulars who have been constantly tweeting in support also feel the same.

"Using the online medium instead of hiring crowds for rallying is a quicker route to reaching out to new India", says filmmaker Pritish Nandy,.

"Putting something online is the fastest way of spreading a message, and Team Anna is making the best use of it," says filmmaker Kunal Kohli.

Meanwhile, major events in delhi - a promotional tour for Ram Gopal Varma's Not a Love story and a PETA event, have been called off because the entire media is busy covering Anna, throwing all other schedules haywire.

The 'support Anna Hazare Against Corruption Group' on Facebook has garnered the support of more than 3,50,000 members. A large number of housewives, IT professionals and students are taking part in this group on Facebook and Twitter and are updating people on a realtime basis.