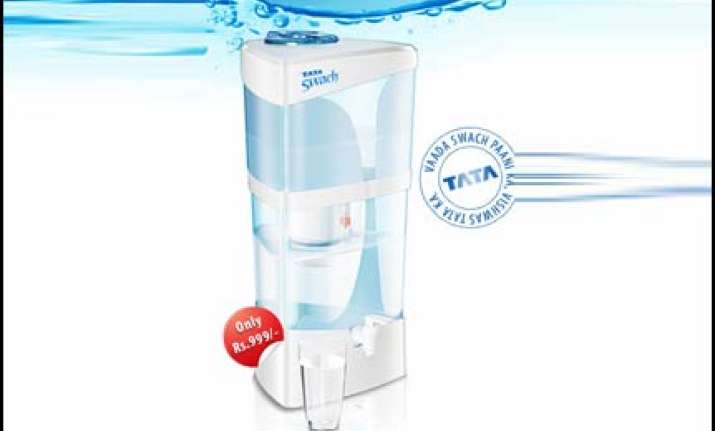 Embarking on a mission to provide safe and affordable drinking water to rural people at the bottom of the pyramid on World Water Day, Tata Chemicals Limited launched its nano tech water purifier in Karnataka on Monday.  
Built around a cartridge bulb, the water purifier "Tata Swach" made of natural elements like rice husk impregnated with nano-silver particles, does not require electricity or running water to operate it and removes specific disease causing bacteria and virus, Sabaleel Nandy, Head Water Purifier Business told reporters here.
Based on low-cost natural ingredients, it is replaceable filter-based product which delivers safe drinking water at a new market benchmark price of Rs 30 per month for a family of five, P K Ghose Chief Financial Officer, Tata Chemicals Limited said.
The 18-litre capacity water purifier is available for Rs 999. The replaceable filter which shuts water supply after its useful life, is priced at Rs 299 and can purify 3,000 litres.
"Through launch of Tata Swach, which is the result of collaborative effort between Tata Chemicals, TCS and Titan, we are committed to address the problem of water-borne diseases with 400,000 children below five years of age dying of diarrhoea in India every year", Ghose said.
The product development has resulted in 18 patents being filed by the company, he said.
The company is looking at a sales target of one million water purifiers a year, Ghose said, adding "we expect demand to go up in the monsoon months as that is the time when water infections occur".
The firm, he said, is also contemplating coming up with a more economical and smaller model in the next few months.
The purifier is now being manufactured at the company's Haldia plant in West Bengal "because of its proximity to the raw material- rice husk. However we are also evaluating other manufacturing site options like Tamil Nadu, Karnataka and Andhra Pradesh" Ghose said.
With water purifier penetration being less than 10 per cent, there is huge potential for such a product in the domestic market, he said.
To a question, Bhaskar Bhat, Managing Director, Titan Industries Limited, who was present, said "it is machine building and automation under precision engineering division which was responsible for the assembly of the unit". PTI