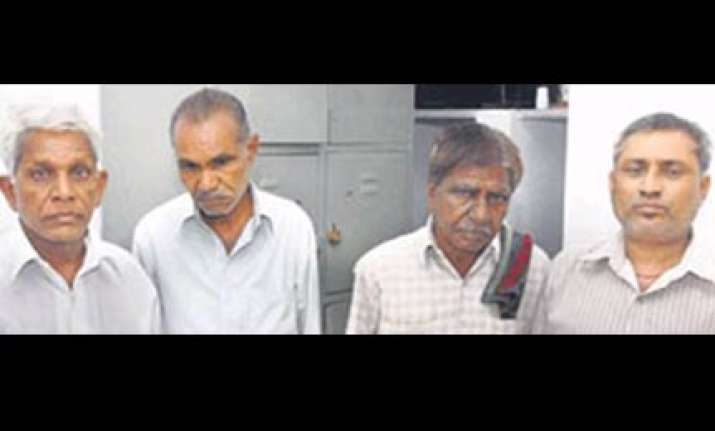 An alert Ahmedabad resident took police help in nabbing a tantrik who was promising to multiply people's money, reports Ahmedabad Mirror.  
His timely tip-off helped cops zero in on a godman allegedly swindling gullible people by promising to multiply their money.
The tantrik was arrested with three of his aides on Monday morning near Pirana toll tax booth in Danilimda, a few moments after they tried to fox the tipster.   
35-year-old Anmol alias Arvind Srimali, was initially lured by the godman's multiply-money bait. But good sense prevailed after his first meeting with the 51-year-old self-proclaimed tantrik, Navin Kalu Solanki, at Narol on Saturday.  
The same day he informed Danilimda police about his second appointment with the godman, hailing from Khijli in Kheda district, near Pirana toll tax booth on Monday. Using Anmol as a bait, cops accompanied him to the designated spot in civil dress and arrested Navin with his three accomplices Raja Maoji Lakhniya (66), Natwar Tulsi Lodha (44) and Usman Hussain Chipa (53).
Sources said Anmol, a resident of Jai Krushna Society in Behrampura, learnt about the 'divine powers' of the godman from his nephew Rajesh last week and went to meet him last Saturday. Giving the godman a Rs 500 note, he asked him to double it. After chanting some mantras, Navin gave Anmol two currency notes of Rs 500 denomination in two minutes.
Taken aback, Anmol urged the godman to multiply the Rs 1,000 to Rs 50,000. Citing that he needed to perform some rituals to multiply the money 50 times, Navin advised him to return on Monday morning.
Sniffing something fishy in the godman's ploy, Anmol informed Danilimda police the same day about his second sitting with the godman. Assuring him of cops' presence at the designated spot in civil dress, inspector PB Chouhan told Anmol to go ahead with his appointment.   
When Anmol, a owner of a refrigeration shop at Peer Kamal Char Rasta in Behrampura, reached Pirana toll tax booth on Monday morning, he found the godman standing there with his three aides beside an autorickshaw. After chanting some mantra, Solanki asked Anmol to give him Rs 1,000 and handed him over a briefcase. When Anmol opened it, he saw bundles of currency notes of Rs 50 denomination. But at second look he found that only the notes on the top and the bottom of each bundle were original. The rest were papers cut into the size of currency notes.
Detecting the fraud, Anmol signalled at the cops waiting nearby in civil dress and Navin was arrested with his three aides. Danilimda police inspector Chouhan said: "Navin was foxing gullible people in the city promising them to multiply their money. Anmol's tip-off helped us arrest him with his aides."
Sources said the arrested accomplices of Navin used to introduce the godman to innocent Amdavadis. "Raja, a resident of Lati Bazaar at Geeta Mandir, Natwar of Vishalnagar in Isanpur and Usman, a resident of Rangwala ni Chali at Astodia, were the agents of the godman. Navin used to meet gullible people, the Mirror report said.