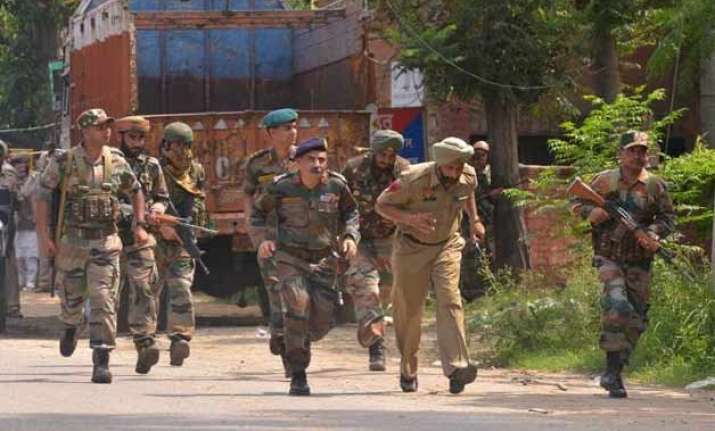 New Delhi: Adopting a two pronged policy towards Pakistan, India has decided to engage the Nawaz Sharif government through bilateral talks while retaining the option of retaliatory action against cross border firing and terrorism.
This means India will engage Pakistan's political leadership in order to strengthen democratic forces in the neighbourhood even as it responds in kind to non-state players.
India's response will be both disproportionate and unpredictable, top officials were quoted as saying in a Hindustan Times report.
With early inspection of data from GPS making it clear that terrorists who stormed into Gurdaspur area of Punjab on Monday, launched their operation from Pakistan. It is quite clear that strong forces in the country (Pakistan) want discontinuation of dialogue with India and revival of violence in Punjab.
Despite the disturbances, the Narendra Modi government is on course of engaging with Pakistani side as decided in the recent Ufa joint statement with a National Security Advisor (NSA) level dialogue followed by talks between chiefs of border forces and then the heads of military operations.
 South Block is clear, that it will punish any Pakistani adventure on the Indian side at a time and place of its choosing.  
 "The previous UPA regime believed in calibrated and cautious approach in dealing with Pakistan with the latter holding all the levers. This time every uncalled for action will have an unpredictable and disproportionate response," said a senior official.
 Three civilians and four security personnel, including a superintendent of police, were killed on Monday when three heavily-armed terrorists from Pakistan went on a killing spree in Punjab's Gurdaspur.
 It took 100 hours for Punjab Police commandos to eliminate the terrorists who, in military fatigues, stormed a police station complex in Dinanagar town in Gurdaspur district, once a hotbed of militancy and adjoining Pakistan, taking security forces by surprise.
 Dinanagar is located barely 15 km from the Pakistan border.