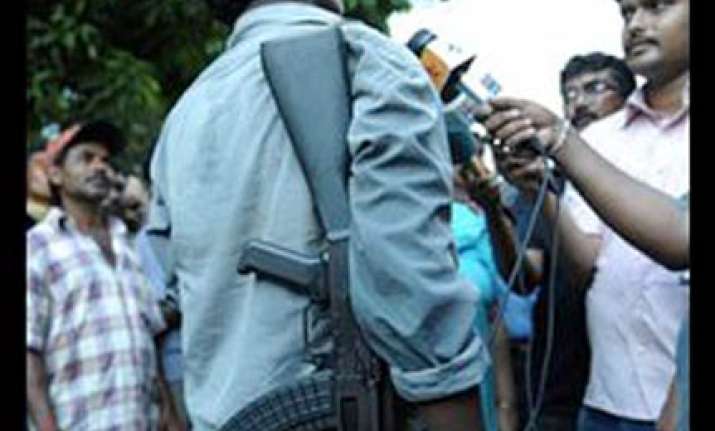 The Maoists are now training their guns on big cities and Kolkata and Bhubaneswar could be among their next targets if the government does not announce talks immediately, a senior commander has warned.  
The threat came from CPI (Maoist) politburo member and military commander Koteswar Rao, alias Kishanji. He served the government with an ultimatum from his jungle hideout on Saturday, threatening to strike cities and towns if it rejected their offer of talks.  
Chief ministers Buddhadeb Bhattacharjee and Naveen Patnaik — in Kolkata and Bhubaneswar respectively — have been insisting that operations against the Maoists be stepped up.  
Kishanji put Jharkhand chief minister Shibu Soren in a different bracket. "He comes from a tribal family and understands their problems. We will confront him only when he acts adversely," the Maoist leader said. He also endorsed Bihar chief minister Nitish Kumar's demand that a major share of mining income should be spent in the area instead of being sent to Delhi.  
Asked whether Naxals would be responsible for the bloodbath in case of intensified strikes, Kishanji said, "Why blame us? The government is not sure what it wants. We honoured Chidambaram's proposal of a 72-hour ceasefire before the talks. I gave my cell number to the media and kept it open for three hours on February 25 waiting for the government to call me. None of the officials called me."  
But many caution that the Maoists are not sincere about talks and will use the truce as an opportunity to regroup and re-arm themselves.  
And as proof, they point out that although Kishanji gave a ceasefire call on February 23, there was no let up in Maoist attacks. Kishanji blamed government for not honouring the truce call, saying forces went ahead with their operations and killed Lalmohan Tudu, leader of People's Committee against Police Atrocities.  
The Maoists will not take it lying down, he asserted. "We will intensify our strikes if government does not initiate talks. If need be, we will proceed towards towns and cities." "Governments have been blaming us for violence. Our party came into being some years ago. What about the phase when we were not there? What have the governments done for welfare of the adivasis in last 53 years?" he asked.  
He claimed that 90% of adivasis can't avail of government jobs under reserved category. Quite a number of reserved posts have to be converted to the general category because the authorities do not get any applications under this category.