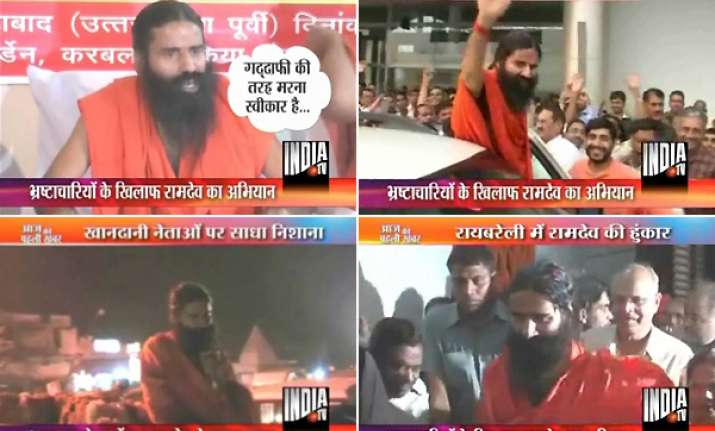 Rae Bareli, UP, Nov 16: In his harshest remarks against the ruling dispensation, and that too, in Sonia Gandhi's constituency, yoga guru-cum-anti-black money crusader Swami Ramdev on Tuesday lashed out at those salting away ill-gotten money in offshore funds and demanded "Gaddafi-like death" to such "gaddars"(traitors).

Addressing a public meeting here, Swami Ramdev did not name anybody and said:  "These corrupt, dishonest traitors deserve a death like Gaddafi's."

Swami Ramdev also attacked what he called 'khandaani netas' (dynastic leaders) and alleged, some of these leaders were also plundering the nation's money.

"Our country is not poor, it is not weak, but these gaddars (traitors) of Bharat Mata have made our country so. Some Gaddafis have plundered our country", the yoga guru said.

"It is our nation's misfortune that the leaders whom we considered khandaani (dynastic), have also plundered our nation's money", said Ramdev.

Swami Ramdev demanded that the government bring out strict laws to curb black money and to bring back ill-gotten money from offshore accounts.

He promised he would continue to campaign against the government, which he said did not even think twice before carrying out "barbaric" lathicharge on sleeping supporters at Ramlila Maidan.