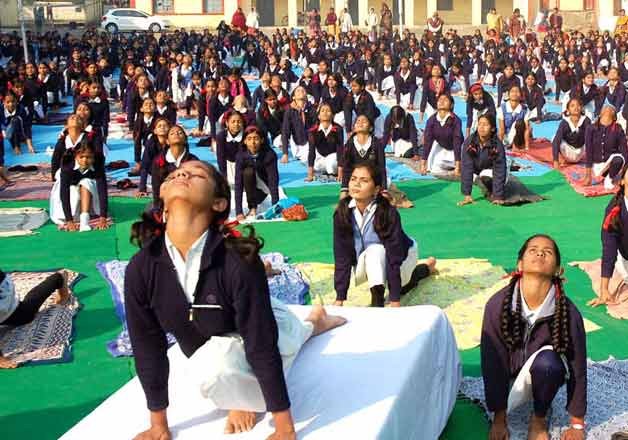 New Delhi: After Madhya Pradesh made Surya Namaskar voluntary in schools, another BJP-ruled state has now gone a step further.
The Rajasthan government has made it mandatory for school students perform the Surya Namaskar.
In an order on Tuesday, the School Education Department directed schools to earmark 20 minutes for the assembly of which five minutes should be dedicated to prayers, singing of the National Anthem and the National Song and taking the pledge; 10 minutes to yoga, Surya Namaskar and meditation; and five minutes to reading out Hindi and English dailies.
A source said that surya namaskar, prayers and meditation cannot be exercised without chanting of mantras. The order didn't go down well with schools run by Arya Samaj, Muslim community and Christian missionary schools. These groups are objecting the move stating that this order is 'divisive' to the secular credentials of our nation. All private schools are silent over the issue.
The order said these would help improve the academic environment in schools, and the physical and mental health of students.
The minister had directed all the schools to hold Saraswati Puja to mark the occasion of Basant Panchmi this January 24. The state has over 1.20 lakh schools including 85,000 government and 35,000 private schools which are catering to 1.31 crore students in 2013-14 academic session.
While talking to TOI, Suwalal, director of Secondary Education in Rajasthan, said, "The order is aimed at improving the educational environment along with strengthening mental and physical fitness." While MP had implemented surya namaskar only in government schools, Rajasthan has gone a step ahead by asking private schools as well to introduce it.