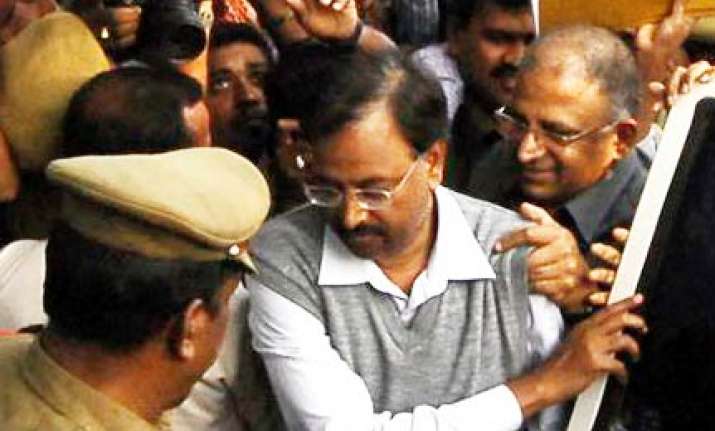 New Delhi, Oct 26 :  The Supreme Court today cancelled the bails granted to Satyam Computer founder B Ramalinga Raju, his brother B Rama Raju and four others by the Andhra Pradesh High Court in the Rs 14,000-crore accounting fraud.
Hearing the CBI plea, a Supreme Court bench comprising Justices Dalveer Bhandari and Deepak Verma today cancelled the bails and asked all six persons to surrender by November 8.
Observing that the case involved the biggest scam in the history of India, which had affected large number of shareholders, banks and financial institutions, the bench said that the High Court order of grating bail cannot be sustained.
The SC also directed the special court in Hyderabad, which is conducting the trial in the Satyam case, to conclude its proceedings by July 2011.
Earlier this month, the bench had issued a notice to Raju, directing him to file his reply on CBI's plea.
In its petition for cancellation of the bail granted to Raju by the Andhra Pradesh High Court, CBI had said that Satyam's founder and former chief "misused" the bail by meeting one of the witnesses in the case and tried to "influence" him.
CBI had filed the chargsheet running into over 10,000 pages, naming more than 250 witnesses. Such a huge volume was criticised by the court in the last hearing on October 19.
Besides the two Raju brothers, the High Court had granted bail to the four employees of the IT firm, namely Srinivas, Ramakrishna, Venkatapathi and Srisailam.
CBI had approached the apex court on September 13 and said that Raju might influence the witnesses majority of whom were his former employees.
 
The apex court observed that the trial was pending in a special court and detailed reasons for granting bail have not been given by the High Court.
"Normally, the apex court does not interfere in such cases where bail has been granted by the High Court, but the facts of the case indicate demand that we should interfere," the bench said.
Raju, who was arrested on January 9 last year in connection with the biggest ever corporate fraud in Indian history, and is currently undergoing treatment for liver infection in the state-run Nizam Institute of Medical Sciences, was ordered by the court to appear before the trial court after being discharged. PTI