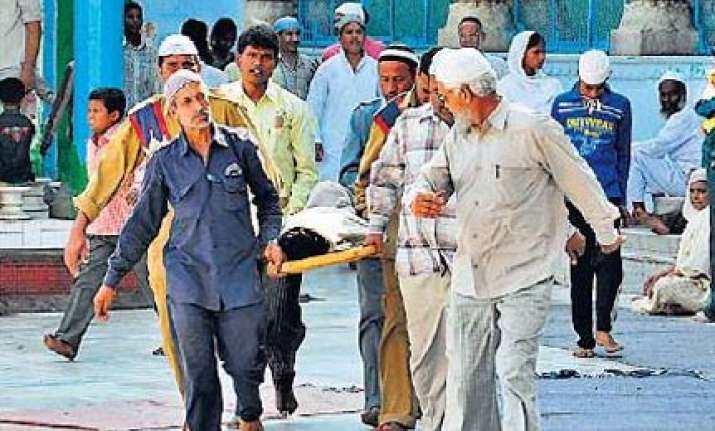 Ajmer: For nearly two months, 13 members of a family, originally from Allahabad, sat fasting outside the world famous Ajmer Khwaja Garib Nawaaz Dargah Sharif, and on Monday, the inevitable happened. Three of them, two brothers and a sister died and the Rajasthan government then swung into action.
SP Ajmer Hari Prasad Sharma says, the dargah officials contacted them about the family on fast. "We sent ambulances. Three were declared dead. A probe has been ordered".The remaining ten members of the family have been admitted in critical condition to the JLNehru hospital in Ajmer. Those who died are: Nausher, 17, Mohammed Salah, 14, and Mehsar Jehan, 22.
The family had been on a fast on the Ajmer dargah premises, hoping to fulfill a wish and ward off a "curse". According to senior police officials, the eldest in the family, Mohammed Mustafa Sheik, who is a retired Merchant Navy official, and his entire family shifted to Ajmer from Allahabad four years ago.  
"The family believed that a relative had put some kind of spell on them, which was causing the entire family mental problems. So they consulted a baba who told them to go to Ajmer Sharif for solace",  an official said.When after three years there was apparently little change in their situation, the family decided to go on a fast.
Sources who knew the family in Ajmer say that Sheikh had a "dream" some weeks ago, wherein he saw that their troubles would disappear if the entire family went on a fast for 40 days.Ahmed Raza, the Ajmer Dargah Nazim (administrator), said that dargah officials had noticed the family on Monday in a severe state of malnutrition.
 "We tried to help them and offered food but they refused. When a few of them collapsed, we immediately alerted the police and hospital authorities," Raza said.  
He added that the dargah administration had offered to pay Rs 20,000 to the family. "It was case of blind belief and superstition. Several people tried to talk to them about it, but they remained adamant," Raza said.