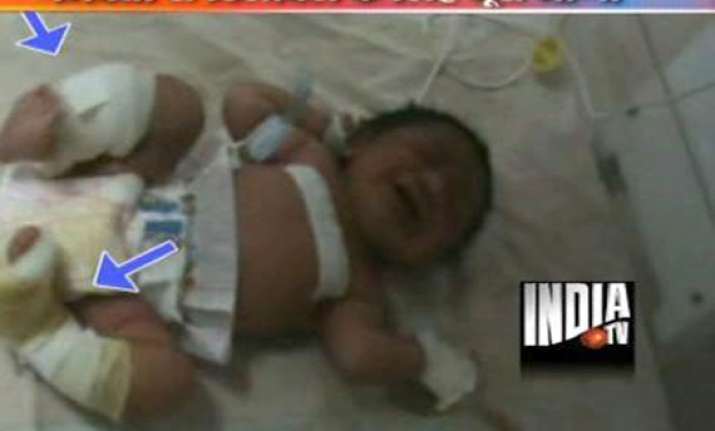 Guna, Madhya Pradesh, Feb 24: A stray pig entered the campus of a state-run Kumbhraj Hospital here on Wednesday, grabbed a newborn baby lying unattended  on the campus and  tried to ran away, before it was rescued.
 
The one-day old infant had serious injuries on its legs.
 
People present at the campus cornered the pig and rescued the infant from its jaws, but by that time, the infant had suffered serious injuries to both its legs.
 
The mother of the infant was brought two days ago by her husband for delivery, but the hospital staff demanded bribe for admitting her.
 
The poor couple stayed at the hospital campus, and it was outside the hospital wards that the infant was born  in the open air campus. 
 
Malkhan Singh, father of the infant, alleged that hospital staff demanded bribe for him, which he was unable to pay.
 
The bloodied infant was soon admitted to the intensive care unit, where it is out of danger.
 
Union Health Minister Ghulam Nabi Azad described this as a shameful blot on the performance of the BJP-run state government.
 
Eve, Dhanush of Kolaveri D fame tweeted to say this was really smaeful.