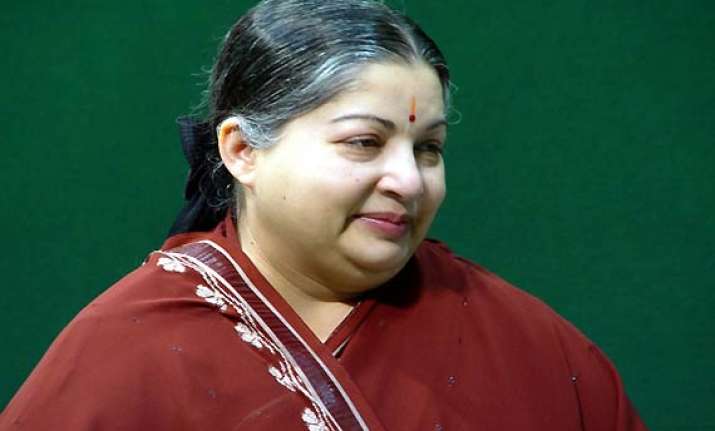 Chennai, Nov 17: The Tamil Nadu government today announced a steep hike in bus fares and milk prices, besides indicating that power tariff would also go up.  Announcing the cabinet decisions in an address on Jaya TV, Chief Minister Jayalalithaa said the hikes were 'unavoidable' as state public sector units were on the verge of collapse.

She charged the Centre with meting out "step-motherly treatment" to non-Congress ruled states and neglecting them.  She said the state electricity regulatory authority would soon decide about the power tariff as Tamil Nadu Electricity Board was facing mounting losses of Rs 53,000 crore. 

Bus fares were hiked 28 paise per km to 42 paise for moffussil services, 56 paise from the present 32 paise for express bus services, 60 paise from the present 38 for semi delux services and 70 paise from 52 paise for delux services.  Milk prices have been hiked by Rs 6.25 per litre from Rs 17.75 to Rs 24.

The decisions on the hike were taken at a cabinet meeting today, she said.

Jayalalithaa said West Bengal, ruled by a UPA ally, had received a special financial package of Rs 21,614 crore while Tamil Nadu's request for a similar package has not yet been accepted.

She recalled submitting a memorandum on the package last June to Prime Minister Manmohan Singh, who forwarded it to Deputy Chairman of Planning Commission Montek Singh Ahluwalia.  However, till date there was no sign of any financial help, she said.

Charging the previous DMK regime with leading the state and public sector undertakings into a debt trap, Jayalalithaa said the state's debt burden was Rs 1,01,349 crore as on March 31. The state electricity board reported accumulated losses of Rs 53,000 crore and state transport corporations a loss of Rs 6,150 crore, she said.

Besides, RBI had blacklisted the TNEB, preventing banks from extending loans to it, the chief minister said. 

Making out a case for increasing power tariff, she said the state's request for allocation of additional 1000 MW from the central pool had been rejected forcing TNEB to purchase power from the open market at a higher price.  Hence, a hike in tariff was unavoidable, she said. 

Justifying the hike in bus fares, Jayalalithaa said price of diesel and automobile spares like tyres had increased manifold.

Announcing a hike in milk procurement prices by Rs two per litre, the Chief Minister said the Tamil Nadu milk Producers co-operatives apex body Aavin could not procure more than 22 lakh litres of the total of 150 lakh litres produced due to financial constraints.

She appealed to the people to accept the hikes as it meant "providing oxygen to the PSUs which are on their death bed." Quoting a Tamil proverb, she said a painting could be done only if there was a wall. Similarly only there were funds could PSUs deliver services to the people.