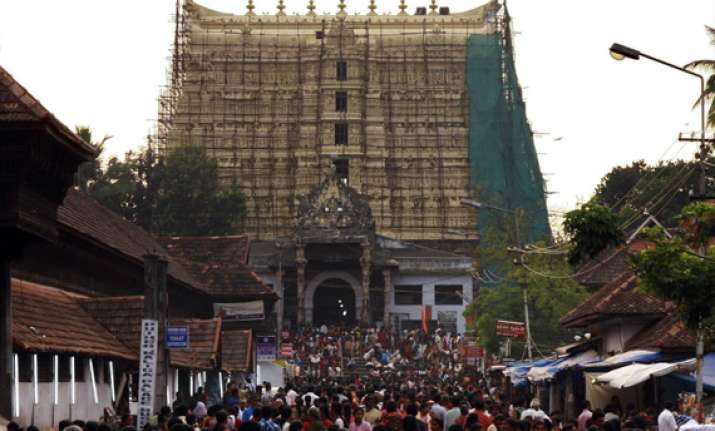 Thiruvananthapuram, Oct 15: Documentation of the nearly Rs 1 lakh crore-worth treasure unearthed at the famed Sree Padmanabhaswamy temple in Kerala would begin Nov 9, said the head of a Supreme Court-appointed committee Saturday.

Director General of National Museum C.V. Ananda Bose, who heads a five-member panel set up by the court, said here that before the documentation "we will be able to complete all formalities as stipulated by the Supreme Court".
 
Apart from the five-member panel headed by Bose, the court set up a three-member committee, headed by a retired judge. The joint committee of the two panels is headed by Bose.

While speaking to reporters after a meeting of the joint committee Saturday, he said: "The state government also has to sanction funds required to meet the expenses for it. We are on course to do the job that has been entrusted to us. On Nov 4 we will again meet here to make an assessment of the preparations needed to begin the documentation."

Sources close to some joint committee members pointed out that a highly specialised agency would also assist it to do the valuation of the temple treasure.
The committee members felt that the documentation might take up to one year, sources said.
 
According to earlier reports, the temple is believed to have a treasure trove of precious jewels estimated to be worth more than Rs 1 lakh crore, making it the richest temple in the world.

In all, there are six vaults in the temple of which five have been opened based on a petition filed by former Indian Police Service official T.P. Sunderarajan, who died July 17.

In July, a court appointed-committee stumbled upon the treasure from the temple's vault A which remained closed for more than 150 years.

The apex court in August appointed two committees - one consisting of five experts headed by Bose mandated to videograph and photograph the articles found in vault A of the temple and another three-member committee, to be headed by retired Kerala High Court judge M.N. Krishnan, to oversee the operations of the experts' committee.