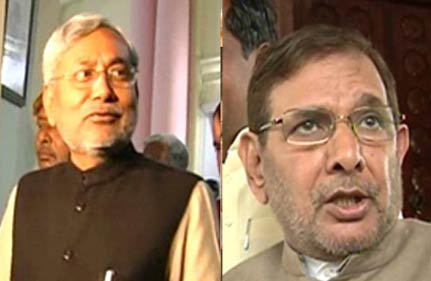 The Women's Reservation Bill, one of the most controversial bills to ever enter Parliament, will be tabled on Monday.
But just ahead of that, a divide in the ranks of the Janata Dal United has raised the hopes of the UPA government.
The JD(U), along with the Samajwadi Party and the Rashtriya Janata Dal have famously fought against the bill.
But now Bihar Chief Minister Nitish Kumar seems to have gone against party line and backed the bill.
"I think it is an idea whose time has come. I still support quota-within-quota but it should not become the ground for delaying reservation for women in legislatures," he has told a newspaper.
He has even appealed to party chief Sharad Yadav to reconsider his opposition to the bill.
The JDU leader had earlier said his party opposes the bill and will not get divided.
A party MP from Ujiarpur, Ashwamedh Devi has also announced that she will vote in favour of the bill.
Meanwhile Prime Minister Manmohan Singh today made out a strong case for women's quota in legislatures and said his government would try and push the bill through, no matter what it takes.
Over the years, this bill has had its supporters and detractors.
Responding to the Union government's decision to table it on Monday in the Rajya Sabha, the Bharatiya Janata Party (BJP) issued a whip asking MPs to be present and vote in favour of the bill. (Read: Congress, BJP issue whip for Women's Reservation Bill)
At the same time Rashtriya Janata Dal (RJD) chief Lalu Prasad Yadav on Friday met the Prime Minister, Manmohan Singh, and asked him not to table the bill. He instead demanded an all-party meet. The bill would be a disaster, said the RJD chief. (Watch: Lalu on women's bill)
The first test is in Rajya Sabha, where the bill needs support of 2/3rd MPs. That is 163 MPs in favour of the bill, out of 245. The bill has assured support of 160 MPs. (Read: Women's quota: The numbers game)
The opponents, who have managed to stall it for 13 years, are few. So, a lot depends on fence sitters. The government is nervous. Members of Parliament (MPs) like Sumitra Mahajan have seen the first draft and the first skirmish over Women's Quota Bill way back in 1996. They know that the battle has just begun.