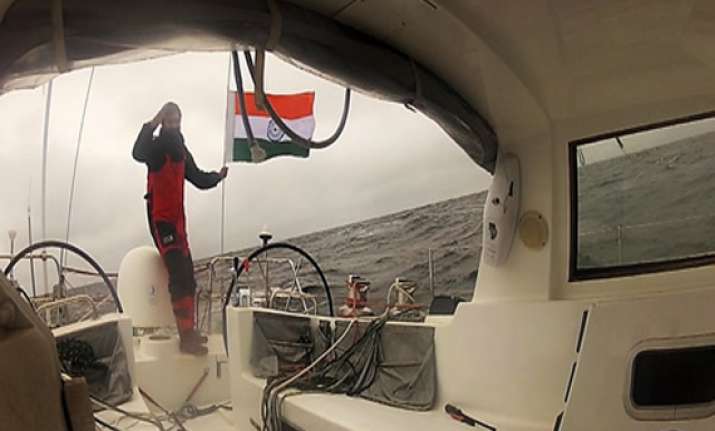 Mumbai, Aug 11: An audio-visual version of the national anthem features Lieutenant Commander Abhilash Tomy hoisting the tricolour on the high seas off Cape Horn at the southernmost tip of South Africa during his extraordinary circumnavigation of the globe in a sailboat.
The audio-visual, released across theatres Friday, was the brainchild of Lynn de Souza, founder, Social Access Communications. It will be played before a film's screening here in theatres till Independence Day Aug 15.
"We want to inspire patriotism and courage in our youth and Abhilash is a role model and real icon of change to them," de Souza said in a statement.
On Republic Day 2013, Tomy had hoisted the tricolour during first solo, nonstop, unassisted circumnavigation of the world's oceans in a sailboat by an Indian.
The video footage, edited by Guruvayur Films, has been set to a special version of the national anthem with music rendered by Audiosynkrasy. Social Access Communications has produced the film for cinema and television broadcast.
"Hoisting the national flag on a tumultuous sea at Cape Horn on Republic Day was an extremely proud moment for me as an Indian and a naval officer," Tomy saud.
UFO Moviez, a leading satellite delivered Digital Cinema network, has arranged for the film to be screened from Aug 9-15. PVR Cinemax will also replace the national anthem usually screened in Maharashtra with this special film.
Over 60 national and regional television channels will broadcast the anthem.