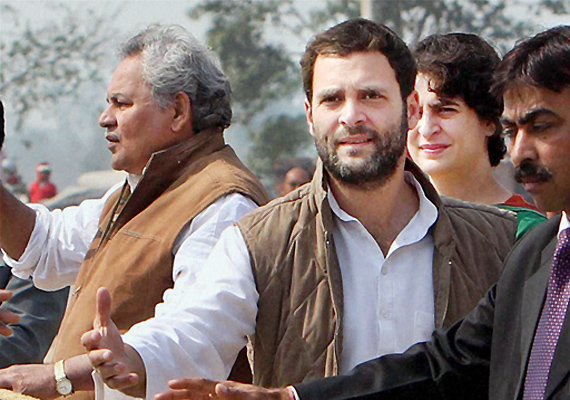 Lakhimpur (UP), Feb 28: Accusing previous non-Congress governments in Uttar Pradesh of denying people their due, Rahul Gandhi today slammed opposition SP, BSP and BJP "for fooling the people with bogus assurances."

"During the last 22 years, SP, BSP and BJP have been fooling the people with bogus assurances in health, education and employment sectors," he said at election meetings in the district.

Describing health, education and employment as the basic needs of the people, he said in that during the last 22 years, governments headed by these parties had not paid attention to their rights and extended only assurances.

Rahul, who is on his third visit to Kheri during the ongoing Assembly elections in the state, urged the people to vote Congress to power, saying "Be it 'cycle' or 'elephant' (SP or BSP), both have failed to benefit people."

The Congress leader attacked SP chief Mulayam Singh Yadav and BSP supremo Mayawati on the issue of providing jobs to youths.

"The youths need employment but Mulayam Singh promised them just unemployment allowance," he said.

During 2002 elections, the SP chief promised free power, but the state could get electricity for hardly four hours, he said and added that no power plant had been established in UP since 1990.

Rahul said that Congress-led UPA government launched the world's biggest employment programme MNREGA, but BSP chief Mayawati dismissed it as drama.

"The Centre sent hefty funds for implementation of MNREGA, Sarva Shiksha Abhiyan, power and water supply ... these funds did not belong to me, not to Congress, not to Sonia Gandhi or Manmohan Singh. It was the hard-earned money of the UP people and they had right over it and to get it used for their welfare," he said.

Rahul said no leader could usher in development in UP till he visited the people.

"But, tell me which leader came to you during the last five years," he asked.

"I spent time with UP people but Rahul was called insane," he said.

Rahul said BJP took out yatras on the issue of corruption but embraced those corrupt leaders who were expelled from BSP.