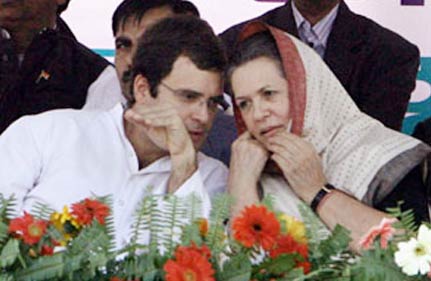 New Delhi, Nov 26: Congress President Sonia Gandhi and Rahul Gandhi are among 80 party MPs who have decided not to take their daily allowance for the days Parliament did not function, saying the principle of 'no work, no pay' should be followed.
Parliamentary Affairs Minister P K Bansal said almost 80 MPs have voluntarily written to Speaker Meira Kumar asking her to not pay them the daily allowances on days Parliament did not function.
Each MP gets Rs 2,000 per day when Parliament is on. Congress has 207 MPs in the 545-member Lok Sabha and 71 in the 245-member Rajya Sabha.
The move by Congress leaders has come in the wake of uproar in Parliament on account of opposition demand for a JPC probe into the 2G spectrum scam due to which both Houses could not function for 11 consecutive working days.
Bansal said that Congress MPs, who met him over the last few days, said they did not want to take their daily allowance since Parliament was getting frequently adjourned without transacting any business and they have no moral right to claim the same.
The Parliamentary Affairs Minister said Congress President "supports and favours" their decision.
"This is, however, their individual decision. They have decided that that they will not take their daily allowance from November 10 till the end of this session on days Parliament remains disrupted. The loss to the exchequer due to disruptions in Parliament is very painful. We should follow the principle of no work, no pay," Bansal said.
Congress spokesperson and MP Manish Tewari had earlier written a letter to the Speaker on his own a few days back stating that he did not want to take the daily allowance on days when Parliament did not function.
In reply to a question, Bansal said he personally felt the allowances given to MPs should be stopped for days on which Parliament did not function.
Bansal also rubbished charges from some opposition parties that not taking allowances was merely "trivialising" the issue.
BJP dismissed the Congress move as a "diversionary tactic" and termed the opposition agitation on the issue of scams as a "struggle to save democracy". PTI