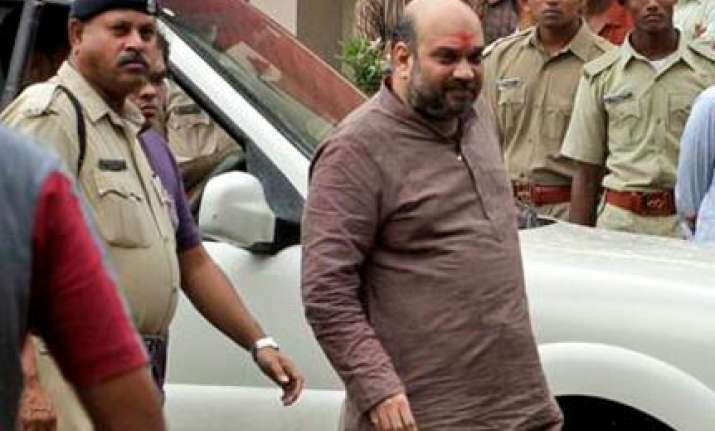 The Gujarat high court on Friday granted bail to former Gujarat home minister and close aide of Chief Minister Narendra Modi, Amit Shah, in the Sohrabuddin Sheikh fake encounter case, after three months of imprisonment.
The court granted bail to him for a surety amount of Rs 1 lakh.
The Central Bureau of Investigation court had earlier rejected Shah's bail plea in the case. The CBI arrested Amit Shah on July 25 in connection with the fake encounter case.
In his petition before the high court, Shah had alleged that the CBI had framed him and that there was no evidence to implicate him.
On September 3, Shah had asked the Supreme Court to recall its verdict for a CBI probe on grounds of 'prejudice,' and leveled allegations of corruption against its judge and the Central government.
In the 87-page application moved by Shah, he alleged that Justice Tarun Chatterjee, who was part of the bench that had handed over the investigation to the CBI on July 12, was himself under the scanner of the investigating agency for his involvement in the Uttar Pradesh provident fund scam.
Shah's application in the apex court also questioned the propriety of Justice Aftab Alam considering the fact that he was aware that Justice Chatterjee's name figured in the provident fund scam.
The CBI has charged Shah with murder, abduction, extortion and conspiracy. On July 23, it produced a 30,000-page chargesheet implicating Shah in the case.
Shah was interrogated over three days in jail in mid August, but the CBI said he did not cooperate and denied any involvement in the case.
Sohrabuddin and his wife Kausar Bi were killed in an alleged fake encounter in 2005.