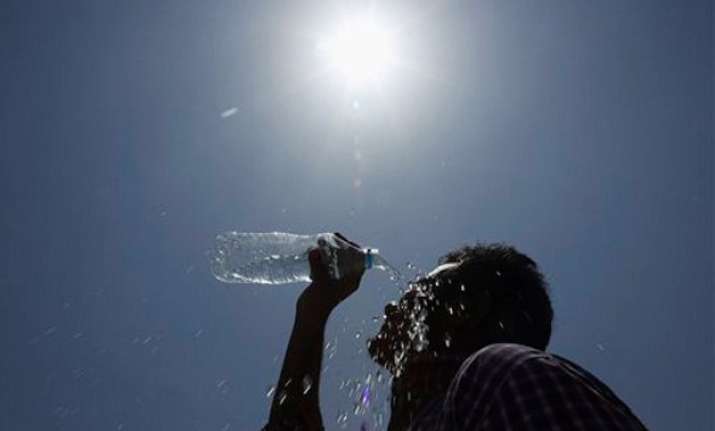 New Delhi:  The sizzling heat wave sweeping many parts of the country claimed 207 more lives since yesterday, raising the overall toll to 757, with Andhra Pradesh and Telangana bearing the brunt.
Besides Andhra Pradesh and Telangana, sweltering conditions persisted in Delhi, Maharashtra, Rajasthan, Uttar Pradesh, Punjab, Haryana, Madhya Pradesh, Odisha and West Bengal with temperature hovering around 45 degree celsius in most places in these states.
According to Skymet, a private weather forecasting agency, Angul in Odisha recorded 47 degree, while Chandrapur and Wardha in Maharashtra witnessed 46.6 and 46.5 degrees, respectively.
Delhi recorded 45 degree celsius, 0.5 degrees less than yesterday which was the hottest day.
There could be some respite from the sweltering heat as some parts of north and south India are expected to experience thunder storm in next two days, thus bringing down the temperature by a few notches.
Kashmir Valley, on the other hand, is witnessing pleasant weather with maximum temperature around 22 degree celsius.
The scorching heat claimed the maximum lives in Andhra Pradesh where 149 people died since yesterday, raising the toll in the state to 551.
The number of deaths in the state till yesterday was 302.
In Telangana, 51 more people lost their lives since yesterday, raising the total death figure to 266. In the state, 215 had died till yesterday.
Seven deaths were reported from Gujarat,all in Ahmedabad.
The overall death toll in various parts of the country due to hot weather till yesterday stood at around 550 and with 207 more deaths since then, the number has gone up to 757.
The scorching weather claimed 104 lives in Guntur district of Andhra Pradesh alone, Special Commissioner for Disaster Management Tulsi Rani said today.  
Guntur was followed by East Godavari with 90 deaths, Vizianagaram with 84 deaths, Visakhapatnam 61 and Prakasam district 57, she told PTI. In other districts, the death toll varied between 8 and 36.
According to the Meteorological department, heatwave conditions will prevail in several parts of the state.
In Telangana, Nalgonda district recorded the highest number of deaths at 73 followed by Khammam 60, Mahabubnagar 32, Medak 26, Karimnagar and Adilabad district 22 each, Warangal 9, Nizamabad 8, Hyderabad and Ranga Reddy 7 each, a senior official of State Disaster Management Department said.